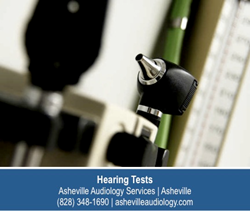 Asheville, NC (PRWEB) May 29, 2014
As a first step in diagnosing hearing loss, the National Hearing Test is an excellent choice. Developed with funding from the National Institutes of Health (NIH), it offers a telephone-based hearing test to screen for functional hearing loss. Although a great step forward in drawing attention to hearing loss in America and completing initial screenings, the telephone-based test has its limits. It's not at all a substitute for the types of comprehensive hearing tests performed by audiologists. The audiologists at Asheville Audiology Services are making an effort to get the word out about the telephone-based screening program while providing their services for follow-up questions and appointments for complete hearing assessments in Asheville and surrounding areas.
Released in May 2014, the National Hearing Test is currently free of charge in honor of Better Speech and Hearing Month, but will normally cost $8 per test. The test screens for one specific type of hearing problem - the ability to differentiate speech from noise - referred to by audiologists as functional hearing. At the end of the screening, the system instantly gives a score for each ear. The possible ratings are "Poor", "Slightly Below Normal" or "Normal". After concluding the test, test takers are urged to consult a local audiologists as a next step. The instructions that follow the test state, "If your results from the National Hearing Test were "marginal or below normal," you should make an appointment for a complete hearing evaluation by a certified hearing professional. Even if your results are in the "normal" range but you still have concerns about your hearing, we encourage you to seek a complete hearing evaluation as well."
Asheville Audiology Services is available for comprehensive hearing testing for residents of Asheville and adjacent areas. They are very happy to answer the follow-up questions from anybody who participated in the National Hearing Test and to administer a more complete hearing assessment. The publicity generated by the release of the National Hearing Test is providing much needed attention to the subject of hearing loss. As awareness grows so will the need for qualified local audiologists to assess and treat individual instances of hearing loss. The audiologists at Asheville Audiology Services in Asheville, NC are fully prepared to conduct the comprehensive hearing testing advised by the test creators and to counsel people on their treatment options if hearing loss is established.
The National Hearing Test is a wonderful screening resource and the hearing care team at Asheville Audiology Services hopes that many people will make use of it; however, its not the right starting point for everyone. It does require the finger dexterity to enter many sequences of numbers into the keypad and a telephone with a wall-mounted jack to get accurate results. For anyone who already suspects hearing loss or would have difficulty completing the screening, the audiologists at Asheville Audiology Services advise calling to schedule an in-house hearing test.
About Dr. Cynthia B. Earle
Dr. Cynthia B. Earle has been a practicing audiologist in Asheville since 1981. She is a Magna Cum Laude graduate from the University of North Carolina at Greensboro, earning her B.A. in Speech Pathology and Audiology in 1977. She received her Master of Speech-Language Pathology and Master of Audiology from the University of South Carolina. In 2000 she earned her Doctor of Audiology (Au.D.) degree from the Arizona School of Health Sciences. In addition to all standard audiological services, Dr. Earle is qualified to fit Bone Anchored Hearing Aids (BAHA) and advise patients about Cochlear Implants.
Dr. Cynthia Earle is past president of the Audiological Resource Association and was awarded "Audiologist of the Year" in 1998. She was appointed by the governor of North Carolina to serve on the state licensing board for Speech Language Pathology and Audiology. Cynthia is available to speak to your small group and Audiology associations. She currently lectures at State and National events and serves as a clinical site for hearing aid research.
About Asheville Audiology Services
Asheville Audiology Services (AAS) is an Audiology practice. Our aim is to heighten and preserve your hearing. We can help with various types of noise protection and real ear measurements of musical equipment. If you have existing hearing loss, we can help you with the latest hearing aid technology; including; hearing aid screenings, preventive care advice and hearing aid accessories. Asheville Audiology is your local western North Carolina provider of hearing aids and accessories.
Contact:
Dr. Cynthia Earle
http://ashevilleaudiology.com
Asheville Audiology Services
900 Hendersonville Rd. Suite 105
Asheville, NC 28803
(828) 348-1690