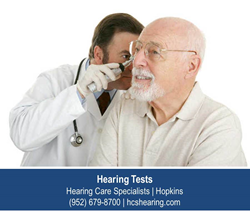 Hopkins, MN (PRWEB) May 28, 2014
The phone-based, NIH-funded National Hearing Test has made it quick and easy for any person to obtain an initial hearing test to detect functional hearing loss in one or both ears. However, the test is not a substitute for a comprehensive hearing examination in the office of an audiologist. The audiologists at Hearing Care Specialists are making an effort to get the word out about the telephone-based screening program while making themselves available for appointments and questions in the Hopkins area.
Released in May 2014, the National Hearing Test is currently free in honor of Better Speech and Hearing Month, but will typically cost eight dollars per test. The test screens for one specific type of hearing problem - the ability to differentiate speech from noise - referred to by audiologists as functional hearing. Test takers get an assessment of "Normal", "Slightly Below Normal" or "Poor" for each ear. The instructions given after the test lead participants to local audiologists. The website states, "If your results from the National Hearing Test were "marginal or below normal," you should make an appointment for a complete hearing evaluation by a certified hearing professional. Even if your results are in the "normal" range but you still have concerns about your hearing, we encourage you to seek a complete hearing evaluation as well."
The audiologists at Hearing Care Specialists wish to assist Hopkins, MN area residents by being the best local provider of professional hearing tests and advice about treating different forms of hearing loss. Hearing Care Specialists anticipates that the publicity generated by the National Hearing Test will bring needed attention to the subject of hearing impairment in America. As participation in the screening test increases, the demand for local audiologists to give case-specific treatment plans and advice will also increase. Hearing Care Specialists is delighted to position themselves as the premiere local provider of hearing testing in Hopkins, MN that residents can turn to after completing the national screening.
The National Hearing Test is a fantastic screening tool and the hearing care team at Hearing Care Specialists hopes that many people will make use of it; however, its not the right first step for everyone. It requires the coordination to type in several sequences of numbers into the keypad and a phone with a wall-mounted jack to get reliable results. Hopkins residents who suspect a hearing problem and who might have difficulty completing the test by phone should directly make an appointment for a complete hearing test at Hearing Care Specialists.
About Dr. Kurt T. Pfaff, AuD:
Dr. Kurt Pfaff, Au.D. grew up around audiology because his father owned and operated a local hearing aid clinic. Dr. Pfaff earned his undergraduate degree in Communicative Disorders from the University of Tulsa and his Masters Degree in Audiology from Central Michigan University. He received his Doctor of Audiology Degree from the Arizona School of Health Sciences. Dr. Pfaff is a Minnesota Licensed Audiologist and is a member of the National and State associations of the AAA (American Academy of Audiologists) and the ADA (Academy of Doctors of Audiology).
About Hearing Care Specialists
Hearing Care Specialists provides full audiology services, hearing tests and hearing aids in Hopkins, Glencoe, Watertown Minnesota. The practice is dedicated to ongoing professional improvement and the entire staff works relentlessly to stay up-to-date with the latest improvements and developments in the hearing industry. The audiologists at Hearing Care Specialists understand that every patient is unique with individual needs and is dedicated to working with each person as an individual to evaluate and understand the cause and extent of their hearing loss and help them find the best hearing aids or other solutions to restore hearing ability.
Contact:
Hearing Care Specialists
http://hcshearing.com
Hearing Care Specialists
10417 Excelsior Blvd., Ste 2
Hopkins, Minnesota 55343
(952) 679-8700
Hearing Care Specialists
1130 Hennepin Ave N
Glencoe, Minnesota 55336
(320) 300-4852
Hearing Care Specialists
200 Lewis Ave S., Ste 220
Watertown, Minnesota 55388
(952) 679-8699