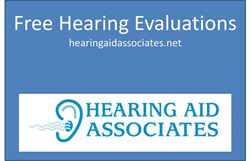 Kennett Square, PA (PRWEB) September 14, 2013
Hearing loss often occurs gradually and therefore people may go for long periods of time - often years - becoming more and more concerned about their hearing, but still not seeking professional help. Whether they avoid having a hearing test out of embarrassment, cost or some other reasons, waiting is never a good idea. If hearing loss is left untreated for long periods of time, the brain can have difficulty correctly processing auditory inputs when hearing is later restored. And, people with hearing loss may withdraw socially or develop depression because of the isolation that hearing loss causes.
The hearing care professionals at Hearing Aid Associates want to eliminate the obstacles to seeking a first hearing evaluation. That's why they've introduced a free hearing evaluation program at their Kennett Square PA office and other area locations. Any person, old or young, concerned about their hearing can take advantage of the complimentary hearing evaluation offer. More information is available on the Hearing Aid Associates website or can be obtained by phone.
About Hearing Aid Associates:
Hearing Aid Associates is one of the most reputed hearing healthcare service providers in Pennsylvania with nine locations. Hearing Aid Associates has provided hearing aids to the Southeastern Pennsylvania area and its surrounding communities for over 10 years. The company offers a full range of diagnostic and preventative hearing healthcare professional services, including hearing aid screening, evaluations, hearing aids sales and rehabilitative and preventative counseling. The staff is dedicated to keeping abreast of the latest improvements in technological advancements in the hearing industry and is committed to offering the most current options to our patients. There are currently 9 Hearing Aid Associates locations in Boyertown, Cleona, Kennett Square, Lemoyne, Palmyra, Phoenixville, Pottstown, Reading, Harrisburg,
Contact:
Ed Grabarek
http://hearingaidassociates.net
Hearing Aid Associates
115 E. Main St
Palmyra, PA 17078
(717) 473-4160
Hearing Aid Associates
6 Hearthstone Ct, Suite 105
Reading, PA 19606
(610) 816-6024
Hearing Aid Associates
1610 Medical Dr, Ste 103
Pottstown, PA 19464
(610) 482-4164
Hearing Aid Associates
1220 Valley Forge Rd., Suite 1B
Phoenixville, PA 19460
(484) 985-4029
Hearing Aid Associates
35 North Walnut St
Boyertown, PA 19512
(484) 334-2595
Hearing Aid Associates
4500 Oakhurst Blvd., Suite 315
Harrisburg, PA 17110
(717) 745-1177
Hearing Aid Associates
211 West Penn Avenue
Cleona, PA 17042
(717) 685-4115
Hearing Aid Associates
305 W State St #2
Kennett Square PA 19348
(610)-400-1408
Hearing Aid Associates
20 N. 12th St., Suite 341
Lemoyne, PA 17043
(610) 816-6020