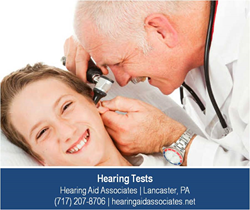 Lancaster, PA (PRWEB) April 30, 2014
Aging is often the associated cause of hearing loss, but loss of hearing is generally a combination of things including the build up of earwax, exposure to loud noises, and the natural process of aging. People that suffer from hearing loss often find that it is a gradual process that allows them to continue with their daily lives seemingly unaffected. Often an event or series of events will cause those with the gradual loss to finally opt for a hearing test. Typically an event is something like a loved one consistently telling the sufferer to turn down the television. The thought of seeing an audiologist for someone suffering from hearing loss can often cause anxiety for fear of needing hearing aids and their implications of 'old-age'. Others with less severe hearing problems often resist because they are concerned about the cost of an evaluation or simply think their loss is not significant enough to take the time for an appointment with an audiologist.
The audiologists at the top provider of hearing aids and hearing tests in Lancaster PA, Hearing Aid Associates, have provided an online hearing test that can easily be found on their website. This complimentary test takes only a few minutes and can help the residents of Lancaster PA determine if they need a hearing evaluation by an audiologist or if they are a candidate for hearing aids. The Hearing Aid Associates professionals understand that some people want to easily access professional's questions from the comfort and privacy of their own home to help them determine if a trip to an audiologist is necessary. After the online hearing test has been completed, Hearing Aid Associates has provided additional information in their Guide to Better Hearing download. If it is decided that a professional hearing evaluation or consultation is needed, appointments can be scheduled online or by calling directly. Audiologists at Hearing Aid Associates advise those that are concerned an in-office evaluation will lead to the recommendation for hearing aids, that there are many causes of hearing loss. Sometimes hearing loss can easily be restored by the removal of excessive build-up of earwax.
If you or a loved one suspects that hearing loss can be affecting their quality of life, take the complimentary online hearing test offered by Hearing Aid Associates to determine if a professional consultation is something that should be considered. For more information about the free online hearing test, visit the Hearing Aid Associates website or call their office directly.
About Hearing Aid Associates:
Hearing Aid Associates is one of the most reputed hearing healthcare service providers in Pennsylvania with nine locations. Hearing Aid Associates has provided hearing aids to the Southeastern Pennsylvania area and its surrounding communities for over 10 years. The company offers a full range of diagnostic and preventative hearing healthcare professional services, including hearing aid screening, evaluations, hearing aids sales and rehabilitative and preventative counseling. The staff is dedicated to keeping abreast of the latest improvements in technological advancements in the hearing industry and is committed to offering the most current options to our patients. There are currently 9 Hearing Aid Associates locations in Boyertown, Cleona, Kennett Square, Lemoyne, Palmyra, Phoenixville, Pottstown, Reading, Lancaster.
Contact:
Ed Grabarek
http://hearingaidassociates.net
Hearing Aid Associates
115 E. Main St
Palmyra, PA 17078
(717) 473-4160
Hearing Aid Associates
6 Hearthstone Ct, Suite 105
Reading, PA 19606
(610) 816-6024
Hearing Aid Associates
1610 Medical Dr, Ste 103
Pottstown, PA 19464
(610) 482-4164
Hearing Aid Associates
1220 Valley Forge Rd., Suite 1B
Phoenixville, PA 19460
(484) 985-4029
Hearing Aid Associates
35 North Walnut St
Boyertown, PA 19512
(484) 334-2595
Hearing Aid Associates
1520 Commerce Drive,
Lancaster, PA
17601
(717) 207-8706
Hearing Aid Associates
211 West Penn Avenue
Cleona, PA 17042
(717) 685-4115
Hearing Aid Associates
305 W State St #2
Kennett Square PA 19348
(610)-400-1408
Hearing Aid Associates
20 N. 12th St., Suite 341
Lemoyne, PA 17043
(610) 816-6020