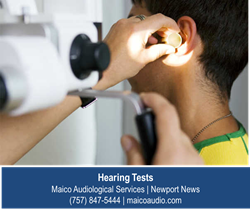 Newport News, VA (PRWEB) May 28, 2014
As a first step in detecting hearing loss, the National Hearing Test is an excellent option. Established with funding from the National Institutes of Health, it provides a telephone-based hearing assessment to screen for functional hearing loss. While a huge step forward in drawing attention to hearing loss in America and conducting initial screenings, the phone-based test has certain limitations. It's not at all a replacement for the types of comprehensive hearing tests performed by audiologists.
The Audiologists at Maico Audiological Services are making an effort to inform others about the telephone-based screening program while making themselves available for appointments and questions in Newport News, VA and surrounding areas.
Released in May 2014, the National Hearing Test is presently free as part of Better Speech and Hearing Month, but will typically cost eight dollars per test. The test is best regarded as a screening test for functional hearing - especially the ability to understand speech among noise. Each ear is tested independently and receives its own score of Poor, Slightly Below Normal or Normal. Participants are steered toward local audiologists for follow-up after the test. The instructions that follow the test state, "If your results from the National Hearing Test were "marginal or below normal," you should make an appointment for a complete hearing evaluation by a certified hearing professional. Even if your results are in the "normal" range but you still have concerns about your hearing, we encourage you to seek a complete hearing evaluation as well." The audiologists at Maico Audiological Services want to assist Newport News, VA area residents by being the best local provider of complete hearing tests and advice about managing various forms of hearing loss.
The audiologists are thrilled about the publicity that the National Hearing Test is generating for hearing problems in America and encourage anyone who suspects a hearing problem to take the phone-based test (especially during the free testing period). As participation in the screening test increases, the demand for local Audiologists to provide patient-specific advice and treatment plans will also rise. The hearing care team at Maico Audiological Services is excited about positioning their practice as a primary provider of hearing testing and hearing loss treatment in Newport News, VA. While the National Hearing Test is an excellent starting point for many people, it does require a land-based phone connection, a quiet testing area and the manual dexterity to correctly enter patterns of numbers into the phone. Any person who suspects hearing loss and would have trouble completing the telephone-based screening is encouraged to schedule an assessment directly with a local audiologist.
About Dr. Mavis Garrett
Dr. Mavis W. Garrett received her Bachelor's and Master's Degree from the University of Virginia in 1980 and 1982, respectively. In 2003, she earned her Doctorate in Audiology (AuD) from AT Still University in Arizona. Dr. Mavis Garrett holds licenses in both Hearing Aid Dispensing and Audiology from the Commonwealth of Virginia and is a fellow with the American Academy of Audiology. Dr. Garrett is a member of the American Speech Language and Hearing Association and holds the Certificate of Clinical Competence in Audiology (CCC-A). Dr. Garrett eagerly seeks continuing education to remain current on the latest advances in hearing loss prevention, diagnostics and treatment.
About Maico Audiological Services
Maico Audiological Services is committed to improving the quality of life for all people with hearing loss. For more than 20 years Maico Audiological Services has provided professional audiology care to the residents of Newport News, Chesapeake and Smithfield VA. Maico Audiological Services is pleased to offer a full range of diagnostic and preventive hearing healthcare services including hearing aid screenings, hearing evaluations, rehabilitative counseling and preventative care. Maico Audiological Services prides itself on developing long-term relationships with patients and providing unparalleled personal service that begins the first time a patient walk through the doors and continues long after the initial appointment.
Contact:
Dr. Mavis Garrett
http://maicoaudio.com
Maico Audiological Services
703 Thimble Shoals Blvd., Suite C-3
Newport News, VA 23606
(757) 847-5444
Maico Audiological Services
1021 Eden Way North Ste 110
Chesapeake, VA 23320
(757) 383-8787
Maico Audiological Services
1702B S Church Street
Smithfield, VA 23430
(757) 356-5069