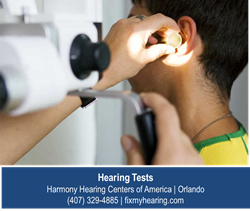 Orlando, FL (PRWEB) April 30, 2014
Hearing loss of some degree is reported by approximately 20% of adults in the United States. But it should come as no surprise that hearing loss is often associated with age since one out of three people that are at least 65 years of age suffers from a hearing impairment. The loss of hearing, however, is generally a combination of things that can include the build up of earwax, exposure to loud noises, and the natural process of aging. Hearing loss is rarely the cause of one single event, rather it is a gradual process that allows people to continue with their daily lives seemingly unaffected. Typically a loved one notices hearing problems before the sufferer because they are met with extremely high volume of the television or the need to repeat what they say often. Making an appointment to see an audiologist for someone suffering from hearing loss often causes anxiety because they fear hearing aids, if necessary, will make them 'old'. Often overlooked is the fear of the unknown - not knowing what to expect at the first hearing evaluation.
The Harmony Hearing Centers of America audiologists, top providers of hearing tests and hearing aids in Orlando FL, have added information to their website to help those who have never been tested for hearing understand what to expect. The information provided first explains that the audiologist will review personal information and then provide the opportunity for patients to ask any questions or provide information about their unique lifestyle that might be relevant to their hearing problems. The audiologists at Harmony Hearing Centers of America conduct full diagnostic hearing evaluations that can include a variety of tests. Additional information that can be found to help educate future patients includes the variety of evaluations that might be used to evaluate different types of hearing loss. New patients can learn about the use of an otoscope, which is an instrument used to see the ear canal and the ear drum. They can also read about a pure tone hearing test typically conducted in a soundproof booth that tests the ability to hear tones through a set of earphones. Sometimes the audiologist might conduct a speech test to determine the level at which one can actually understand speech. The reader can learn about all of these hearing tests and more, although not all tests are performed every time at Harmony Hearing Centers of America. First-time visitors can be assured that the audiologists at Harmony Hearing Centers of America will review the test results with them and then be offered solutions that might include hearing aids. Audiologists stress the importance to understand that not all hearing evaluations result in the recommendation of hearing aids. Quite often, the audiologist might find excessive earwax build-up that can be easily removed to restore hearing.
For more information about what to expect during a hearing exam by the audiologists at Harmony Hearing Centers of America, visit their website. New patients ready to schedule a hearing test or audiologist consultation can schedule an appointment directly on their website or by calling their office.
About Dr. Al Turri, Au.D.
Dr. Al Turri is founder and director of Harmony Hearing Centers of America. Dr. Turri graduated from the University of South Florida with a degree in social sciences with the intent of becoming a speech pathologist. As a graduate student at University of South Florida he discovered a love for audiology and completed his Master of Science degree in Audiology in 2001. He went on to complete his Doctor of Audiology (Au.D) degress at School of Audiology at the Pennsylvania College of Optometry. In addition to operating the five Harmony Hearing Centers of America locations, Dr. Turri really enjoys working with individual patients to address their hearing, tinnitus and balance needs.
About Harmony Hearing Centers of America:
Harmony Hearing Centers of America, has five locations across Orlando and the surrounding Florida communities of Altamonte Springs, Clermont and Winter Park. The company and its professional staff focus on improve each individual patient's quality of life through better hearing. Harmony Hearing Centers of America carries a full selection of hearing aids and assistive listening devices, including new, invisible hearing aid styles and digital models with advanced features, in order to meet each customer's specific hearing needs.
Contact Us:
Dr. Al Turri
http://fixmyhearing.com
Harmony Hearing Centers of America
2601 Delaney Ave
Orlando, FL 32806
(407) 329-4885
Harmony Hearing Centers of America
715 Douglas Ave
Altamonte Springs, FL 32714
(321) 441-9556
Harmony Hearing Centers of America
4331 S. Highway 27
Clermont, FL 34711
(352) 729-3377
Harmony Hearing Centers of America
2431 Aloma Ave Ste 102
Winter Park, FL 32792
(407) 278-4987
Harmony Hearing Centers of America
7009 Dr. Phillips Blvd.
Ste 140
Orlando FL 32819
(407) 965-3086