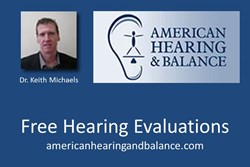 Los Angeles, CA (PRWEB) September 19, 2013
Hearing often declines gradually with age. There is generally no single event that triggers hearing loss, but rather a combination of noise, wax build up and normal aging that causes hearing ability to drop off. Because the loss is gradual and doesn't initially affect every day activities, many people wait to get a hearing test until their hearing loss is quite pronounced. Different people delay getting a hearing test for many reasons, the most common reason is thinking that wearing hearing aids will label them as 'old'. However other people wait because of the cost. If they are unsure there is anything wrong with their hearing, they many not want to pay for a full evaluation when they just want to ask a few basic questions.
Los Angeles hearing aids provider American Hearing & Balance wants anyone who has questions or concerns about their hearing to come ask and find out the truth. They want to reduce as many barriers as possible, so they have recently decided to make the initial hearing evaluation entirely free. The complimentary hearing evaluation is the first step in discovering whether a hearing problem exists and learning about treatment options. For some people, their hearing loss is caused by excessive ear wax which can be easily removed to restore proper hearing. Too many LA-area residents assume that any visit to a hearing specialist will result in a recommendation for hearing aids, but that is not the case.
More information about the free hearing evaluation offer at American Hearing & Balance is available on their website or by calling the location nearest you.
About American Hearing & Balance:
American Hearing & Balance is a family owned business providing superior hearing healthcare services in Los Angeles and surrounding communities with seven offices in Los Angeles, Manhattan Beach, Santa Monica, Marina del Rey, Westchester, Torrance and Glendale. They offer a full range of diagnostic and preventative hearing healthcare professional services, including hearing tests, hearing aid sales, and rehabilitative and counseling services for those with hearing loss. Additionally, American Hearing & Balance stocks all the most common hearing aid accessories including cleaning supplies, hearing aid batteries and cell phone adapters. American Hearing & Balance is dedicated to keeping abreast of the latest improvements and technological advancements in the hearing industry and is committed to offering the most current options to patients.
Contact:
Dr. Keith Michaels
http://americanhearingbalance.com
American Hearing & Balance
3875 Wilshire Blvd, Suite 302
Los Angeles, CA 90010
(213) 536-4543