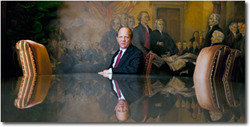 Individuals and the families of individuals who experienced heart attack, stroke, or another serious health problem while taking testosterone may be entitled to real compensation by filing a testosterone lawsuit.
St. Louis, MO (PRWEB) November 26, 2014
Attorneys handling testosterone claims for alleged cases of heart attack and stroke report progress in the multidistrict litigation known as In Re: Testosterone Replacement Product Liability Litigation - MDL No. 254. A November 6, 2014 official court Case Management Order outlined a timeline for choosing bellweather cases and conducting discovery that would have the first six testosterone lawsuits concluded by April of 2017. The Onder Law Firm's testosterone attorneys offer timely testosterone lawsuit news updates and no-cost case review at AndrogelTestosteroneLawsuitCenter.com.
The testosterone lawsuit MDL originated as a means to consolidate cases related to the testosterone replacement therapy drug Androgel, but has since been expanded to included injury and death claims for plaintiffs taking any one of a long list of testosterone replacement therapies marketed by more than a dozen pharmaceutical companies, according to court documents. Interestingly, the recent case management order indicated that bellweather trials will only include Androgel testosterone lawsuits, focusing only on a sole defendant, AbbVie. Other defendants in the case include major pharmaceutical companies, such as Pfizer, Inc. and Eli Lilly & Co., according to court documents.
According to the current testosterone lawsuit timeline discussed in recent court documents, both plaintiffs and defendants are free to submit proposed bellweather cases until July of 2015, 16 of which will be selected for final review by October of 2015. The discovery process is slated to begin at that time. In the end, a total of six bellweather cases will be tried, according to court documents; three will feature plaintiffs who allegedly suffered deep vein thrombosis or pulmonary embolism while taking Androgel, and the other three will feature testosterone heart attack allegations.
What began as a small grouping of just 45 testosterone lawsuits has swelled to 490 actions in the Northern Illinois branch of United States District Court, according to court documents accessed November 11, 2014. According to official court documents, all the testosterone lawsuit claims included in the MDL "involve plaintiffs (or their survivors) who used one or more testosterone replacement therapies and contend that … use of the drugs caused … heart attack, stroke, deep vein thrombosis, and pulmonary embolism". The drugs included in the testosterone lawsuit MDL include gels, injections, and other methods of delivery.
Lawyers representing men and families around the nation in testosterone lawsuits believe that individuals and the families of individuals who experienced heart attack, stroke, or another serious health problem while taking testosterone may be entitled to real compensation by filing a testosterone lawsuit. Nationally-renowned for groundbreaking work in drug and product safety litigation against multi-billion dollar corporations, the Onder Law Firm's testosterone attorneys have committed their significant resources to providing expert legal representation to men and the family members of men who believe they may have grounds to file testosterone lawsuits. Individuals and family members of individuals who meet this description are entitled to a no-cost, no-obligation consultation through the firm's Androgel Testosterone Lawsuit Center website.
The Onder Law Firm welcomes testosterone lawsuit or other testosterone case inquiries from law firms in regards to handling them or working as co-counsel.
About The Onder Law Firm
Onder, Shelton, O'Leary & Peterson, LLC is a St. Louis based personal injury law firm handling serious injury and death claims across the country. Its mission is the pursuit of justice, no matter how complex the case or strenuous the effort. The pharmaceutical and medical device litigators at The Onder Law Firm have represented thousands of Americans in lawsuits against multinational conglomerates from products liability for manufacture of defective or dangerous products to deceptive advertising practices. Other firms throughout the nation often seek its experience and expertise on complex litigation. It is also a recognized leader in products liability cases such as window blind cord strangulation. The Onder Law Firm offers information from attorneys handling testosterone lawsuits at http://www.AndrogelTestosteroneLawsuitCenter.com.