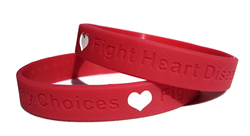 Chicago, IL (PRWEB) August 31, 2013
SupportStore's new "Healthy Choices - Fight Heart Disease" wristband is designed as an "always with you" reminder to be mindful when making choices that affect your body. The wristband includes this message, plus a debossed heart shape filled with white, creating a subtle yet important message.
The American Heart Association states that "Cardiovascular diseases, including stroke, are our nation's No. 1 killer."
The World Heart Federation sponsors September 29th as World Heart Day. The purpose of this day is to help educate everyone about "the road to a healthy heart."
Living a healthy lifestyle is important to keeping your heart healthy. Things like eating well, being active, not smoking, and managing stress can help your heart be healthier.
Just one of the ways to help create habit change is to wear a reminder wristband. A rubber wristband can get wet and rarely breaks so they can be worn 24 hours a day. The message is "debossed" or imprinted into the rubber material so it never wears off.
The SupportStore-designed "Healthy Choices - Fight Heart Disease" wristbands are made of 100% silicon rubber, come individually packaged in a universal adult size, and are available now on the website for $2.50 each, with bulk quantity discounts for organizations and fundraising bringing the price down as low as $.69 each.
SupportStore carries an assortment of items specifically to help rally awareness for heart disease.
About SupportStore.com
SupportStore is an online only retailer of items people and businesses use to "shout out what they care about." A portion of every sale is made available for donation to charity.
Customers choose from 500 in-stock items that ship same day. Customers can also choose to create a custom designed wristbands in quantities of 500 or more.
SupportStore's "products with a purpose" are low cost ways to help create awareness and raise money for causes that people care about most, primarily through:

indoor/outdoor oval, circle and ribbon car magnets
silicon rubber debossed wristbands
metal lapel pins
embroidered lapel ribbons
clear vinyl static clings
With a total inventory of over 500,000 items, SupportStore can supply both consumer needs and businesses including dematologists, skin care clinics, hospital gift shops, and company events.
SupportStore is a registered trademark and "Shout out what you care about" is a trademark of ZapTel Corporation.