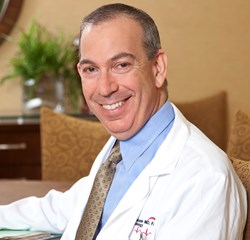 Typically, patients with Broken Heart Syndrome will have the same symptoms as a heart attack.
Boynton Beach, Florida (PRWEB) September 05, 2013
Broken heart syndrome (BHS) is a medical condition that can occur after a severe emotional stress. In fact, a little more than 2 percent of patients who think they are having a heart attack will end up receiving this diagnosis.
According to Lawrence M. Weinstein, M.D., a Board Certified cardiologist who has been on staff at Bethesda Heart Hospital since 2006, a broken heart is a very real condition.
Broken Heart Syndrome (BHS) is commonly associated with a traumatic event (loss of a loved one, robbery, divorce, etc.), 15 percent of patients with BHS may not have any identifiable stressful event. Typically, patients will have the same symptoms as a heart attack: chest pain, shortness of breath and sweating. Even their EKG can look that way. The main difference is that when patients are taken to the cardiac catheterization lab, their arteries are completely clean. There are no blockages!
BHS is also known by the strange name of takotsubo (tack-o-sue-boh) cardiomyopathy. This is the Japanese name for a pot used to trap an octopus.
In patients with BHS, only the base of the heart moves properly, with the rest of the heart hardly moving at all.
In the short run, patients with BHS can be quite sick. Blood pressures can be low and the lungs may fill up with fluid. Rarely do things get really bad. Patients respond to supportive care and to the same types of medicines used for patients with weak hearts. Within a week, the heart function begins to improve and after six weeks, it is typically back to normal.
So when the Bee Gees ask, "How do you mend a broken heart?," the answer is simple. Like many things in life, it's time - proving yet another adage - that time heals all wounds.
Diagnosing Broken Heart Syndrome
Anyone experiencing symptoms of a heart attack should always call 9-1-1 or visit the nearest emergency room as quickly as possible, even if they suspect broken heart syndrome. A complete exam by a physician is the only way to rule out a more serious cardiac event.
Common symptoms of a heart attack:

Chest discomfort. It can feel like uncomfortable pressure, squeezing, fullness or pain.
Shortness of breath. It can be with or without chest pain.
Discomfort in other areas of the upper body. Symptoms can include pain or discomfort in one or both arms, the back, neck, jaw or stomach.
Other symptoms may include breaking out in a cold sweat, nausea or light-headedness.
In addition to a physical exam and reviewing a patient's medical history, if a physician suspects broken heart syndrome, he or she may order the following tests:
Electrocardiogram (ECG or EKG) to measure the heart's electrical activity
Blood tests
Chest X-ray
Echocardiogram (heart ultrasound)
Cardiac MRI
Angiogram to provide images of the major blood vessels to the heart, to make sure there are no blockages
Bethesda Heart Hospital, located in Boynton Beach Florida is one of the leading heart hospitals in the country that combines medical excellence with advanced technology to diagnose and treat heart and vascular disease. To learn more about the full spectrum of heart care services available at Bethesda Heart Hospital visit http://www.BethesdaHeart.org.