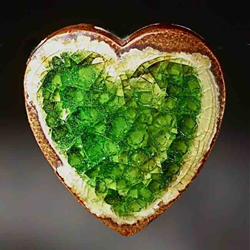 Turning old recycled glass from trash to class...
Ferndale, WA (PRWEB) May 08, 2014
There are all kinds of mothers, and Paloma Pottery has something for every one of them. With this offer, customers can finally indulge in a quality, handmade eco-friendly gift for mom, and even pick up a free gift for the other mother in their life. Whether it is handmade jewelry, ring holders, or another treat from their extensive line, customers are sure to be satisfied with their online purchase.
Jewelry makes an easy, priceless gift for the woman who gives so much. Paloma's signature Recycled Glass Pottery design brings all the sparkle of a rare treasure in a range of styles and personalities. Elegant glass pendants for the classy and understated mother. Cute and funky Lapel Pins for the mother with a special love for cats, dogs or fish. Oval, oblong or square glass rings in a dazzling array of colors, with a depth of shine that speaks to all. Their Recycled Glass Earrings are an ideal fit for either casual or upscale occasions. Mothers with an ecological consciousness will appreciate the admirable practices of this 14 year old artisan business.
The savvy chef will cherish a set of custom Serving Bowls. Paloma offers a range of colors from their Earth-Ocean-Blanco series. This gift speaks of class and care with a sturdy clay base and delicate border of crushed, sparkling glass. These will be an impressive gift to last for generations.
The gardener would delight in a set of Garden Stepping Stones, and just in time for spring planting. A touch of whimsy that can bring so much, these stones add sparkle and magic to a place where mom most loves to be.
If jewelry isn't her thing, Paloma Pottery carries another guaranteed winner for Mom - their Handmade Soap Gift set. With a quality, rustic bar from Ancient Dragonfly Soap Company in Anacortes, Washington and a fine crackle glass pottery dish, this gesture is sure to please. Somehow, Paloma Pottery manages to combine elegance, artistry and ecological consciousness into a creation of beauty every time. No wonder their customers keep coming back, time and time again.
Now, shoppers can add a small token of love and appreciation for the other mothers in their life. A Heart Shaped Gift Magnet or Keychain is an ideal gesture for another beloved mother: a co-worker, friend, or sweetheart. Orders must total $50 before sales tax, and customers must use coupon code MOM14 at checkout. The offer expires May 31, 2014.
This is a great opportunity to enjoy the handmade, refined elegance of a company that has been "turning trash into class" since the turn of the century. Of course, Mom deserves it.
About Paloma Pottery:
Paloma Pottery has been online for 14 years now, and the mark of endurance shines through its work. Continually improving and expanding her line, Founder Nicole Whitney has grown Paloma Pottery into a thriving artisan presence. For those who are seeking exceptional quality gifts with a unique, eco-friendly design as well as solid business ethics, Paloma Pottery is the place. For more information, please visit http://www.palomapottery.com or call 877-669-0783.