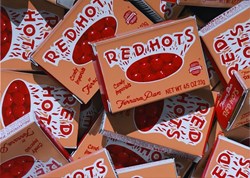 Valentine's bouquets may last a few days, but a sensual photography of a flower will make a heart beat faster for years to come. - gallery owner, Lisa Cooper, owner, Elisa Contemporary Art
New York, New York (PRWEB) January 31, 2014
All year long, the gift of original art can be one that truly touches the heart and feeds the emotions. From fun and flirty to sensual seductive flowers to living large with a favorite treat captured forever on canvas, here are just a few ideas from Elisa Contemporary Art to make this Valentine' Day unforgettable:

Treats to wrap your mouth around from Red Hots to Hershey Kisses to Cherry pops by Hawaii Husband and Wife artists Peter and Madeline Powell:
Hawaii Hyper-realist artists Peter and Madeline Powell, a husband and wife team, start each painting with setting up and taking up to 72 reference photos of the subject matter – ranging from Candy to Toys to Cars. They mostly choose to concentrate on close-up, "larger than life" images of everyday things with a bit of a nostalgic feel.
Every element is first laid out in graphite on the canvas in detail, showing the shadows and highlights, as well as the folds, crinkles, lettering and reflections. The layout process can take several days, if not weeks to complete.
Then, the actual painting process begins with the smooth layering of the base colors, which in some cases is done with an airbrush. This allows for a very "flat" surface foundation without brush strokes. Each color is masked off separately and then the lettering is usually painted in with fine sable brushes. In some cases, an old style architectural ruling pen is used which allows them to fill the pen well with paint. With the base colors and lettering complete, the shadows and reflections are painted in, followed lastly with the highlights.
Commissioned artwork is available to create a piece uniquely your own.
Sexy, flirty, fun moments captured in wood by Houston Artist, Mitch McGee:
Houston artist Mitch McGee's artwork lives between painting and sculpture. In his current Birch series, he uses layers of wood, each illustrated, hand cut and stained to create dimensional pieces. On average, each takes 35-40 hours to complete.
His influences include Pop artist Roy Lichtenstein. According to Mitch, "I have always been fascinated with Pop Art and the ability of artists like Lichtenstein and Oldenburg to take everyday objects we are bombarded with and make them fascinating. Roy Lichtenstein took comic strips and repositioned them as lithography. In an almost tongue in cheek fashion, I wondered how I could take one of his pieces and recreate it in another medium."
McGee has exhibited his work throughout Texas since 2001 and in New York with Elisa Contemporary Art since 2012. His work is public and private collections throughout the world. His artwork was featured in the March 2013 issue of Dwell Magazine and in W Magazine in October, 2013
Sensual, seductive flowers visualized by Photographer Jesse Kalisher:
Jesse's first camera arrived on his sixth birthday as a present from his father, celebrated photographer Simpson Kalisher. A darkroom soon followed. Yet despite his enthusiasm for the medium, when it came time to go to college and consider a career, Jesse took his father's advice and focused on anything but photography.
It was not until early 1996, Jesse boarded a plane for Hanoi and two months of untold adventures. He carried with him a simple point and shoot camera. And during that trip, he re-discovered his love affair with photography.
Jesse's work has been featured in The New York Times, Art Business News, Black and White Magazine, Art & Living Magazine and Interior Design Magazine. His photography is in private collections throughout the world as well as many museums including The Louvre, The Smithsonian, The George Eastman House, The de Young Fine Arts Museum of San Francisco, The Museum of Fine Arts Houston and many more. The first photographs of Barack Obama acquired by the Smithsonian National Museum of American History were those taken by Jesse.
For information about any of these artworks or additional pieces, contact Lisa Cooper, Owner, Elisa Contemporary Art at 212.729.4974 or Lisa(at)ElisaArt(dot)com.
About Elisa Contemporary Art
Elisa Contemporary Art represents a portfolio of both emerging and established contemporary artists, many of whom have work in the permanent collections of major museums and corporations.
Founded in 2007 by Lisa Cooper, Elisa Contemporary Art is dedicated to promoting the appreciation and collection of art as a way to enrich and heal our lives, our communities, and the world. The gallery opened in September 2008. Elisa Contemporary Art has participated in international art fairs in New York, Miami and the Hamptons, and curated over 12 public art exhibits in the Tri-State area. A portion of every gallery sale is donated to charities helping underserved children heal through art. We currently support Free Arts NYC, Arts to Grow and Art Therapy Outreach Center. Owner Lisa Cooper also provides art consulting services.
Elisa Contemporary Art has been featured in a number of publications including Ocean Home Magazine, Hamptons Cottages & Gardens, New York Spaces, American Art Collector and The New York Times.
For more information, visit the website at http://www.ElisaContemporaryArt.com. The Riverdale Gallery is located at 5622 Mosholu Avenue, Riverdale NY 10471.
Contact:
Lisa Cooper
Owner, Elisa Contemporary Art
Lisa(at)ElisaArt(dot)com
212.729.4974