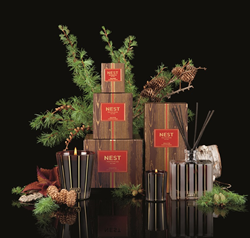 Hearth is a dark, sensual fragrance to be enjoyed during the winter season. Its exotic notes of frankincense, oud wood and smoky embers are reminiscent of romantic evenings curled up in front of a warm, crackling fireplace.
NEW YORK, NY (PRWEB) October 08, 2015
NEST Fragrances is well-known for creating exceptional, authentic scents for the home year-round, but the holiday season is a particularly special time for the fragrance house: Over the years, the brand has created extraordinary and memorable home fragrance collections for the holidays like the aptly named Holiday, Birchwood Pine, and now, HEARTH.
Since 2008, the iconic Holiday Collection makes the season sparkle with its blend of traditional and comforting sweet and spicy notes, including pomegranate, Mandarin orange, pine and cinnamon. In 2012, the Birchwood Pine Collection debuted, bringing indoors the invigorating scent of a majestic winter forest with notes of white pine, fir balsam and birchwood. HEARTH spins a different tale: It captures the aroma of a wintertime fire by combining rich oud wood with frankincense and hints of smoky embers.
"HEARTH is an elegant, comforting new home fragrance that stirs memories of family gatherings in front of a roaring fireplace during the holidays," said Laura Slatkin, Founder of NEST Fragrances. "HEARTH completes our 'Festive Collection,' a trio of fragrances that bring home all the aromas of the holiday season. Although each fragrance is extraordinary individually, Holiday, Birchwood Pine and HEARTH collectively evoke special memories and traditions that are universal to us all."
Available in three sizes, each HEARTH scented candle is housed in an attractive glass vessel in a rich shade of chocolate-brown and decorated with alternating frosted and festive gold stripes. The HEARTH Reed Diffuser bottle features the same decoration but with clear glass and chocolate-brown-colored solution. NEST Fragrances candles are made with a premium, highly-refined wax formula for maximum scent throw – ideal for entertaining during the holidays.
The HEARTH Collection includes (all prices SRP) a Classic Candle, 8.1 Oz. (230 g) for $38; Reed Diffuser, 5.9 Fl. Oz. (175 mL), for $42; 3-Wick Candle, 21.2 Oz. (601 g), for $58; and Votive Candle, 2 Oz. (57 g), for $14.
The HEARTH Collection is available for purchase now at the following luxury specialty department stores (brick-and-mortar and online): Neiman Marcus, Nordstrom, Saks Fifth Avenue and Bloomingdale's; and NESTFragrances.com.
About NEST Fragrances
New York City-based NEST Fragrances is a leading designer, manufacturer and marketer of luxury fragrances for the bath, body and home. Founded in 2005 by fragrance authority Laura Slatkin, today NEST Fragrances produces more than 20 home fragrance collections consisting of luxury scented candles in several sizes, reed diffusers, liquid soap and hand lotion. In 2012, the company launched the NEST Fine Fragrances Collection, which today consists of eight fragrances available in eau de parfum sprays and roller balls and luxury body cream. NEST Fragrances products are sold primarily in North America through a growing wholesale customer network of luxury specialty department stores, beauty product stores, boutique stores and spas, and the company's online flagship store NESTFragrances.com.
# # #