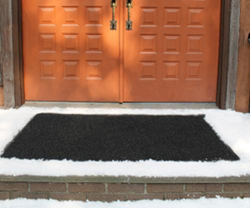 Last year's winter made it clear we needed to provide heated carpet mats in more sizes to help melt snow from entrances
Cleveland, Ohio (PRWEB) August 26, 2014
After last year's brutal winter, Martinson-Nicholls new Snow-Melting Entrance Carpet Mat is expanding its line of heated carpet mats designed to prevent snow and ice accumulation around your facility's entryway.
The new, stand alone heated carpet mats feature a heavy-duty weatherproof olefin fiber surface that will endure the harshest winter elements while providing your facility with the look of a sleek, carpeted entrance mat. These new, heated entrance mats plug into any standard 120V outlet, generating heat to melt snow at a rate of two inches per hour.
According to company president Dan Ruminski, "Last year's winter made it clear we needed to provide heated carpet mats in more sizes to help melt snow from entrances."
The ribbed carpet surface captures salt and dirt from the bottoms of shoes, helping to prevent dangerous slip and fall accidents. The carpeted surface also helps keep snow, slush and ice from being tracked inside. Turn the mat on before or after a snow fall to watch the mat melt snow on contact--no more shoveling or salting, and no more slipping! Logo printing of these mats is also offered as an option.
Martinson-Nicholls now offers three sizes to meet the needs of most entrances: 24 in. x 36 in., 30 in. x 48 in. or 40 in. x 60 in. The black carpet mats are 0.5 inches thick, and offer a two-year warranty. They are energy-efficient, with power consumption ranging from 1.8 to 5.1 Amps depending on the mat size.
About Martinson-Nicholls
Martinson-Nicholls has established itself as a leader in custom anti-slip tape, floor mats, and eco-friendly products for more than 25 years.
Martinson-Nicholls provides the customer with the exact size matting needed--small, large, standard, nonstandard, special shapes and logos. Custom installations are also a specialty of the company.
Anti-slip safety tapes and treads are available in various sizes and textures from hand cut or die cut pieces to full rolls and special shapes. For more information, please visit http://www.floormat.com.