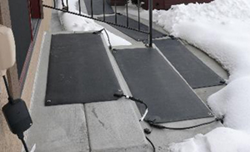 Using these heated mats and treads means delivery people don't have to worry about slips and falls from snow and ice on our entrance
Cleveland, Ohio (PRWEB) September 09, 2014
Martinson-Nicholls Heated Mats and Heated Stair Treads are now available in two, three and new four foot widths to provide safe outdoor footing without shoveling.
Designed for commercial buildings, industry, hospitals, office buildings and hotels, these heavy duty heated mats and stair treads melt snow and ice for safer, drier footing. They feature:

Suitable for Outdoor or Indoor Use
Work as a snow-melting doormat or snow and ice-free stair treads
Works indoors to provide radiant floor heat and promote drying
Compact size ideal for residential use
Low Profile - Ease of use for wheel chairs or walkers.
Non-slip surface provide optimum traction year round, indoors or outside in snow or rain
For indoor use, the mats provide radiant heat in entrances and vestibules, reducing heating costs while providing warmth and helping to dry the floor. They also work very well as work mats for working in the garage during winter months and other areas where people must stand on cold floors.
The heated mats are available in two, three or the new four foot widths in 120 or 240VAC models. The two and three foot wide versions come in lengths up to 20 feet; the four foot wide models come in lengths of six or ten feet.
The heated rubber treads are sold individually, but designed to connect to additional treads (up to 13 amps). They are 11" deep, and come in widths up to 96 inches.
Both the heated walkway and stair mats feature a non-slip surface for optimum traction year round. The mats and treads are durable, and designed to be left outside regardless of the season. They may be cleaned with mild detergent and water.
These ice-melting mats can be installed in doorways and ramps creating a safer walking environment around the clock. Their use eliminates damage to floors, door jams, and concrete from salt and calcium chloride. There is no need to use harsh chemicals to melt snow.
"Using these heated mats and treads means delivery people don't have to worry about slips and falls from snow and ice on our entrance." states company president Dan Ruminski.
About Martinson-Nicholls
Martinson-Nicholls, has established itself as a leader in custom anti-slip tape, floor mats, and eco-friendly products for 60 years.
Martinson-Nicholls provides the customer with the exact size matting needed--small, large, standard, nonstandard, special shapes and logos. Custom installations are also a specialty of the company.
Anti-slip safety tapes and treads are available in various sizes and textures from hand cut or die cut pieces to full rolls and special shapes. For more information, please visit http://www.floormat.com.