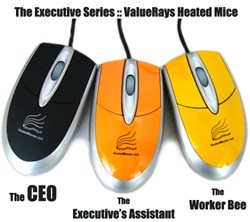 Which color heated mouse works for you?
North Palm Springs, CA (PRWEB) November 04, 2013
The CEO, The Executive's Assistant and The Worker Bee are new heated computer mice by ValueRays® at HeatedMouse.com. Chilly winter days are approaching quickly, and there's nothing more irritating than a cold mouse hand when there's work to do.
The Executive Series Heated Mouse is comfortable to hold and is available in black, orange and yellow. The warming effect of the warm mouse relieves and soothes a stiff, cold mouse hand. The ValueRays® heated mice are designed using a carbon fiber heating element producing infrared heat. Infrared rays heat the object, not the air around it, making the heated mouse the ultimate mouse hand warmer.
Which color heated mouse works for you? The black warming mouse is called "The CEO." The color black communicates power, prestige and confidence. The orange warm mouse is called "The Executive's Assistant." The color orange is characteristic of those who help to create balance. The yellow heated mouse is appropriately named "The Worker Bee." The color yellow stimulates new ideas and thoughts.
The ValueRays® Executive Series Heated Mouse can assist people suffering from cold hands when using the computer: poor circulation, arthritis, carpal tunnel, Raynaud's and muscle tension issues. The USB optical warm computer mouse helps to relieve mouse hand pain by providing a low level of infrared heat -- 98 to 104 degrees Fahrenheit. The convenient inline heat control switch is located on a 55" long USB cord. The heated mouse is light weight and comfortable for any hand size.
The Heated Mouse has been featured on CBS News, Fox News and on popular websites and blogs throughout the world.
For more information about the ValueRays® Executive Series Heated Mouse, visit HeatedMouse.com. The Heated Mouse website offers the best prices for ValueRays® Heated Gadgets, Free USA Shipping, No Sales Tax (except California), and for a limited time, mention this press release and receive an extra 5% off your order.