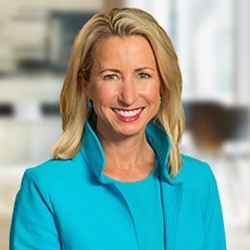 MCLEAN, Va. (PRWEB) May 29, 2019
CrossCountry Consulting LLC (CrossCountry), a business advisory firm headquartered in McLean, VA, announced today that Heather Stewart has joined the company as a Partner in its San Francisco office where she will be leading Risk & Compliance advisory services for the West Coast.
With over twenty-five years of experience, including serving as the Chief Audit Executive of a public company and a former partner of a Big Four accounting firm, Heather will strengthen the company's Risk & Compliance practice by leveraging her vast experience in internal audit, risk assessment, Sarbanes-Oxley (SOX) compliance, technology risk, enterprise risk management and regulatory compliance, along with her background of working with Fortune 500 companies and high-growth startups. In addition, Heather will help advance CrossCountry's cybersecurity, systems strategy & selection and data analytics offerings in the West Coast.
"We are thrilled to have Heather Stewart join our team," said CrossCountry Co-Founder, Dave Kay. "Her unique combination of expertise in Risk, IT and Business Transformation, along with her leadership and business development skills will significantly enhance CrossCountry's advisory practice and expand our West Coast capabilities in areas where we see significant demand."
Heather Stewart added, "I'm excited to continue to build upon CrossCountry's already demonstrated success on the West Coast and within its national Risk & Compliance practice. I'm especially enthusiastic about contributing to the company's unique culture and to its close client partnership."
About CrossCountry Consulting
CrossCountry Consulting is a trusted business advisory firm that provides customized finance, accounting, human capital management, risk, operations and technology consulting services to leading organizations facing complex change. We partner with our clients to help them navigate pressing business challenges and achieve goals related to improving operations, minimizing risks and enabling future growth.