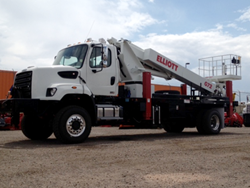 Elliot HiReach platforms let contractors do the work of a whole fleet of trucks with a single unit.
Denver, CO (PRWEB) September 11, 2013
The Western Area Power Administration is one of four Power Marketing Administrations created to deliver and market energy generated from hydroelectric plants operated by the Bureau of Reclamation, the Army Corps of Engineers, and the International Boundary and Water Commission. It sells and transmits power through 17,000 miles of lines radiating from 56 federal dams and the Navajo Generating Station to millions of users in 15 western states.
When WAPA asked its suppliers for a heavy-duty aerial boom truck, O.J. Watson designers delivered the solution. The Elliot G72 HiReach Aerial Platform is versatile enough to reach in any direction and lift workers and tools 72 feet high and 62 feet to the side. "When we mounted the G72 to a heavy-duty Freightliner truck body, we knew WAPA would have a rugged, reliable piece of equipment that would be ideally suited to the demands that working in the Intermountain West place on their crews," says Mark Eckrich, Watson's Senior Vice President.
Elliot Industries has been designing and building truck-mounted telescoping aerial work platforms and cranes since its founder, Richard Elliot, developed the first one in Omaha, Nebraska in 1948.
Postwar America contractors and utilities needed more efficient ways to set poles and string power lines in places that had never had electricity. Elliot developed the first truck-mounted telescoping platforms, and the company has carried his vision forward into the present. Today the G72 HiReach platform is part of an extensive line of customizable machines that the company describes as "the machine that launched an industry."
"Elliot HiReach platforms let contractors do the work of a whole fleet of trucks with a single unit," says Chris Campbell, O.J. Watson's sales liaison for WAPA. "They can move materials, give an overhead work platform, and even place poles in holes they dig."
Building a truck to do the work WAPA needed meant finding a boom that could reach power lines 70+ feet high while carrying crewmembers and equipment smoothly and safely. Elliot booms use a single-acting, full displacement long-stroke cylinder to raise loads up to 500 pounds on a 30 x 54-inch platform. A holding valve prevents the boom from falling in the event of a failure in the hydraulic system. Once the boom reaches working height, the turret rotates on a large-diameter ball bearing mount that gives continuous motion through a self-locking gear box for smooth and safe positioning.
"We went with an Elliot G72 because we knew from experience it would get the job done reliably," Campbell says. "Combined with the safety features and low maintenance typical of Elliot platforms, we knew WAPA would have a workhorse they could count on for many years to come."
Because each agency, municipality and contractor has its own requirements, O.J. Watson's staff meets with each party to determine their precise needs. Then O.J. Watson's team designs the work truck to meet those standards. Once the truck design is approved, O.J. Watson's Denver facility mates the work platform to the vehicle that will carry it and installs the controls necessary to operate it.
"Our goal is always to go beyond simply selling our customer a truck," says Eckrich, a member of O.J. Watson's ownership family. "We create business solutions by matching the customer with the size and style of truck best suited to their needs."
If that means finding a specialty manufacturer like Elliot Equipment to work with on a custom design, that's what O.J. Watson does. "We're only as good as the last truck we made," Eckrich adds, "and we keep that uppermost in mind on every project."
O.J. Watson's relationship with customers doesn't end with the sale either. "We build trucks to do a job, and that job continues long after the sale," says Eckrich. "Service isn't just a department to us, it's a commitment. We stock spare parts and supplies for the trucks we sell to keep our customers up and running."
O.J. Watson Equipment was founded in 1912 and is now entering its second century of meeting the needs of working Americans. It was launched in Wichita, Kansas by Oscar J. Watson, an entrepreneur whose friends and business associates included American icons Henry Ford, Clyde Cessna, Walter Chrysler, William Coleman, John Willys, and David Sarnoff. He took early Ford and Willys passengers cars and pickups and turned them into purpose-built vehicles, the core competency of the firm to this day. O.J. Watson expanded to Denver in 1974 and in 1988 the company was purchased by Richard Eckrich, who has carried on the tradition of family ownership. The firm also maintains a full-service operation in Greeley, Colorado.
In addition to Aerial Bucket Trucks, O.J. Watson builds Service Body Trucks, Crane Trucks and Mechanic Trucks, Platform Trucks, Dump Trucks, Hook Lifts, and a wide variety of Snow & Ice Control equipment. O.J. Watson trucks and equipment are on the job throughout the Rocky Mountain West for private businesses and city operations, state workers, airports, and federal work crews performing everything from the smallest tasks to heavy-duty demands in a full range of industries.
For complete information call 303-295-2885 or 800-332-2124.