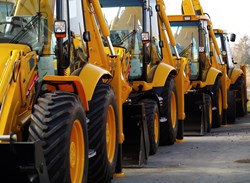 League City, TX (PRWEB) October 13, 2013
Representatives with EHE Auctions today unveiled a blueprint for sellers to follow on how to select an auction company when selling construction, farm and industrial equipment.
Milissa Wise, Director of Operations for Expert Heavy Equipment, the parent company of EHE Auctions, which provides a service for individuals and companies that want to dispose of their heavy construction or farm equipment, explained that when selecting an auction company, the seller needs to find out what fees they must pay to participate.
"They need to ask about whether the auction has a seller's premium, which is a percent of the sale price, in addition to listing and administrative fees," Wise pointed out. "This is important to understand, because this can easily become anywhere from 5 percent to 15 percent of the sale price."
Unlike most auction companies that charge listing fees, plus 3 to 18 percent of the sales price, with EHE Auction, there is no consignment fee, Wise stressed, before adding, "The seller needs to find out if there are any transportation requirements. For example, traditional physical auctions require the sellers to transport their equipment to a physical location. This can be extremely costly whether they transport it themselves with the current fuel prices or if they have to hire a transport company."
The company spokeswoman went on to note that the seller also needs to find out if inspections are required for consignment, which is another cost that must be factored in the decision.
In addition, the seller, according to Wise, needs to find out if he or she has control of the sale price in the cases of absolute auctions and reserve auctions.
"With absolute auctions the machine will sell for the highest bid," Wise said. "This can be potentially dangerous for the seller as there are so many variables that affect bidding. With reserve auctions, the seller works with the auction company to determine a realistic and competitive reserve price so it reduces the risk."
Wise pointed out that the seller needs to find out if the auction company already has qualified buyers.
With EHE Auctions, the seller has an opportunity to market their equipment to global buyers via its strategic partner, Proxibid.
The company's partnership with Proxibid allows EHE Auctions to offer the largest base of global, qualified buyers.
"This ensures a high return on your equipment," Wise said. "What's even better is that with EHE Auctions, there's sellers fees, no transportation costs, no negotiations, and no hassles."
Lastly, Wise revealed that the seller needs to find out how the equipment is being marketed.
"For example: If the auction company is only a local auction company and depending on the local market, it has less of an opportunity to have a high sale price, versus an online auction company that has a global audience," Wise said. "Because the United States is the number one provider of used equipment worldwide, it is always better to have global exposure."