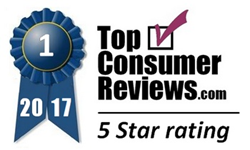 Transparent Language is an industry leader when it comes to foreign language instruction... (they) earn our top ranking among providers of Hebrew Lessons in 2017.
Overland Park, KS (PRWEB) January 13, 2017
TopConsumerReviews.com recently gave a best-in-class 5 star rating to Transparent Language, a leader among online providers of Hebrew Lessons.
Many Jewish people make it a priority to learn Hebrew. From youth preparing for a bar or bat mitzvah to adults looking to connect more deeply with their faith, finding the right language classes is essential to fluency. However, for those who may not live in a community with a synagogue, or for people whose schedules make it difficult to take in-person classes, it can be difficult to learn Hebrew. Fortunately, there are a number of providers of Hebrew lessons who offer both online and downloadable courses, so that students can easily learn from home at any time of day or night.
"Transparent Language is an industry leader when it comes to foreign language instruction, and their Hebrew lessons for children and adults are excellent," according to Brian Dolezal of TopConsumerReviews.com, LLC. "When learning a new language, it's important to incorporate a range of strategies, from grammar to pronunciation and more. Transparent's programs - Online Hebrew and KidSpeak - do a terrific job of keeping learners challenged and engaged. And, for those who need a more personalized experience, Transparent is one of the few language programs on the market that offers both customized online courses and one-on-one tutoring. They also make learning Hebrew virtually risk-free with a generous six-month satisfaction guarantee. Transparent Language earns our top ranking among providers of Hebrew Lessons in 2017."
To find out more about Transparent Language and other providers of Hebrew Lessons, including reviews and comparison rankings, please visit the Hebrew Lessons category of TopConsumerReviews.com at http://www.topconsumerreviews.com/hebrew-lessons/.
About Transparent Language
Transparent Language leverages their expertise in technology and in the research and practice of language learning and teaching to build unique capabilities for use by US Government agencies and organizations, as well as hundreds of public libraries, thousands of schools, and millions of individuals. As a company, they care about all languages, regardless of commercial value. They believe that language technology needs to work for all courses and curricula, not just a few courses. It needs to benefit not only individuals, but entire programs. They believe that great language technology not only changes the user experience; it transforms the economics, logistics, and reliability of language learning.
About TopConsumerReviews.com
TopConsumerReviews.com, LLC is a leading provider of independent reviews and rankings of thousands of consumer products and services. From Hebrew Lessons to Passports and Travel Insurance, TopConsumerReviews.com delivers in-depth product evaluations in order to make purchasing decisions easier.