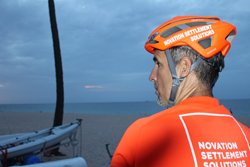 Miami, FL (PRWEB) August 09, 2016
This Sunday, South Florida native and double amputee Hector Picard will compete in an international distance triathlon in Miami to raise funds for Broward Children's Center, as part of his #RacingForTrueChampions campaign sponsored by Novation Settlement Solutions. As an adaptive triathlete, Hector will take on the longest and toughest distance of Mack Cycle Trilogy III at Miami Marine Stadium to honor and inspire 17-year-old Enoldine, who is currently receiving treatment at BCC.
Hector will swim .5 miles (in a modified method he created on his back), cycle 20 miles (on a specially outfitted road bike) and run 6.2 miles, all while wearing a photo of Enoldine around his neck. After completing this impressive feat, Hector will present Enoldine with his finisher's medal at an Olympic-style ceremony at BCC next week to inspire her and other children to keep fighting for their health and overcome all obstacles that lie ahead.
Through the #RacingForTrueChampions campaign, Hector is competing in 25+ triathlons throughout Florida and the nation this year, seeking to inspire patients and raise crucial funds for Broward Children's Center, which treats children who hail from across Florida and nationwide. Each race is dedicated to a different child at the facility.
This weekend's race is also important training for Hector as he prepares to accomplish his goal of becoming the first double amputee to finish the Ironman World Championship in Kona, Hawaii, this October.
Hector will do two more #RacingForTrueChampions events around Miami this year on Sept. 11 and Nov. 13, as well as three more in Broward County. He is also hosting a "Let's 140.6 Together" event in Fort Lauderdale on Aug. 27 to train for the Ironman and raise additional funds for BCC.
Hector's racing is sponsored by West Palm Beach-based Novation Settlement Solutions. He also serves as a spokesperson for the company, which he credits for helping him launch his "second chance" at life as a triathlete and motivational speaker after a difficult divorce and the traumatic accident which led to the loss of his limbs.
To learn more about Hector's charitable efforts and his incredibly inspiring story, visit: https://novationsettlementsolutions.com/hector-picard/.
In the run-up to the race, Hector is available for interviews. To schedule, please contact Pamela Armstrong at pamela(at)redbanyan(dot)com or 954-379-2115 x403.