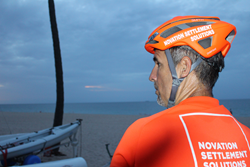 St. Petersburg, FL (PRWEB) August 16, 2016
Saturday morning, Floridian and double amputee Hector Picard will take on the international distance triathlon at Tri Fort De Soto in St. Petersburg. This impressive feat is even more remarkable given that Hector will be competing to raise funds for the non-profit Broward Children's Center, which serves children from throughout the state and nation. As part of his #RacingForTrueChampions campaign, Hector will complete this weekend's race in honor of 2-year-old Michel, who is currently receiving treatment at BCC.
An adaptive triathlete sponsored by Novation Settlement Solutions, Hector will swim .5 miles (in his own modified backstroke), cycle 20 miles (on a special road bike he customized) and run 6.2 miles. He will do the entire race sporting a photo of Michel on his chest. At an Olympic-style ceremony at Broward Children's Center next Tuesday, Hector will present Michel with finisher's medal.
This weekend's race is just one of over 25 triathlons Hector is competing in this year as part of his #RacingForTrueChampions campaign. Aiming to raise funds for Broward Children's Center and to inspire children at the facility, Hector dedicates each race to a different patient at BCC.
Hector is also in training, seeking to becoming the first double arm amputee to complete this year's Ironman World Championship to be held in October in Kona, Hawaii.
Florida-based Novation Settlement Solutions sponsors Hector's racing and charitable efforts. He also credits the company for helping him launch his "second chance" at life as a triathlete and motivational speaker thanks to their assistance after a difficult divorce and the traumatic accident, which led to the loss of his arms. He has served as a spokesperson for the company for over a year.
For more information on Hector's inspiring story and charitable work, visit: https://novationsettlementsolutions.com/hector-picard/.
Hector is available for interviews in the lead-up to the race. Please contact Pamela Armstrong at pamela(at)redbanyan.com or 954-379-2115 x403 to schedule.