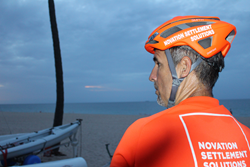 Kona, HI (PRWEB) October 05, 2016
This Saturday, October 8, inspiring athlete, actor and Novation Settlement Solutions spokesman Hector Picard will compete in the Ironman World Championship in Kona, Hawaii, attempting to become the first double arm amputee ever to complete the triathlon. The adaptive athlete is aiming to inspire and raise crucial funds for some of the most medically fragile infants, children and young adults in the United States.
Emerging from a month-long coma with burns on 40% of his body and both arms amputated after a work-related accident, Hector Picard awoke to his second chance at life and chose to make the most of it. In just a few days he will take on the Ironman World Championship, where he will cycle 112 miles on a bike he specially modified, swim 2.4 miles on his back in a technique he created, and then run a full marathon (26.2 miles).
But this effort is bigger than just Hector. He is racing for sick children and young adults receiving treatment in his hometown at Broward Children's Center in Florida. As part of his #RacingForTrueChampions campaign, Hector has completed 25+ races in the run-up to the Ironman world championship, dedicating each race to a different child at BCC, raising money and inspiring them. Hector wears the child's photo the entire race and presents him/her with his finisher medal afterwards. At the Ironman in Kona, he will compete wearing a collage of the children at BCC.
Hector also serves as a spokesperson for Novation Settlement Solutions, which makes all of his amazing races possible. Hector often credits the company for helping him launch his "second chance" at life as a triathlete and motivational speaker following the traumatic accident that led to the loss of his arms.
Hector is available for interviews in the run-up to the Ironman, and in the days following his historic race. To schedule, please contact Vlad Drazdovich at vlad@redbanyan.com or at 954-379-2115 x406.