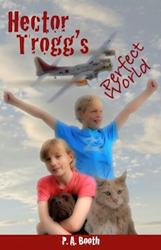 Booth's Hector Trogg is a mischievous eleven-year-old boy who, in the face of danger, takes great pleasure in causing almost as much trouble as the bad guys who want to destroy him and his family.
Lincolnshire, UK (PRWEB) July 25, 2014
While most kids can only daydream about mysterious adventures and secret locations, the main character in Paul Booth's new book 'Hector Trogg's Perfect World' finds himself caught up in a whirlwind of intrigue and on the run with his sister Kate and their parents—from a formidable enemy. Booth's Hector Trogg is a mischievous eleven-year-old boy who, in the face of danger, takes great pleasure in causing almost as much trouble as the bad guys who want to destroy him and his family.
After an accident that destroys their parents' car, Hector and Kate are informed that it was a deliberate act of attempted murder. The authorities explain that Hector and Kate have been left a substantial inheritance from a distant relative named Irvine Deeds. They speculate that it is the greedy, disgruntled closer relatives of Mr. Deeds who are trying to kill Hector and Kate in an attempt to get their hands on the money.
Hector and his family embark on a fast-paced journey as they try to stay ahead of the evil assassin Sludge, who is relentless in his pursuit of them. They are whisked away to different locations—including a chateau in France, a French army camp and an English estate—in an attempt to stay one step ahead of their pursuer. With the help of the French Special Forces, the Troggs narrowly escape death several times. As the plot twists, the real culprit behind the chase is uncovered. Hector and the rest of the Troggs go into hiding, and with the help of their protectors, design a plan to lure Sludge into their trap.
A typical eleven-year old boy, Hector ignores danger and instead seizes the opportunity to fly a plane, fire ammo from an armored tank and take down a few bad guys along the way. When he's not fighting the enemy, Hector wreaks havoc and stirs up trouble to keep himself amused. With his sister Kate, he enlists the help of Bandit the dog and Otto the cat in pulling off shenanigans and then trying to cover up his misdeeds. "At the book's heart is a character who means well but causes chaos," says Booth.
'Hector Trogg' is action-packed and full of eccentric characters and high-spirited comic events. The dynamic between brother and sister is well-developed, and their enthusiasm, energy and youthful curiosity drive the story forward. The plot twists and turns, culminating in an edge-of-your-seat battle with the bad guys, and delivering an unlikely hero and a number of good jokes along the way.
'Hector Trogg's Perfect World' is published in eBook and audiobook format by eBookIt.com and is now available at popular online retailers including Amazon.com, Barnesandnoble.com and Apple's iBookstore.
Review copies of 'Hector Trogg's Perfect World' are available to media contacts upon request. Author Paul Booth is available for interviews.
Jenny Hayes
+44 (0) 1652 637000
press(at)hectortrogg(dot)com
"Hilarious story of a couple of kids whose lives turn from boring to adventure overnight. . . . had me laughing out loud . . . so much fun to read." Charlie Kravetz, Goodreads.
"...a unique book ... a wonderful narrator ... well-written, engaging and willing to tackle hard subjects," Mati Raine, SteamPunkSparrow.
"...a wonderful sense of humour...provided a much-needed break from the building tension...I'd recommend Hector Trogg's Perfect World to anyone in the mood for adventure. There is plenty of it to be found between these pages!" Long and Short Reviews Blog.
"...the narration is excellent...This is one of the funniest stories I have listened to, ever! If you want something for adults and children that makes a very long journey seem like a short one, then get the audiobook." Richard Winterbourne, Goodreads.
"I loved it! It was a book that I didn't want to put down because it was so exciting all the way through...both tense and funny at the same time!" Baddow Hall Junior School, Boy aged 11, amazon.co.uk.
About Paul Booth
Paul Booth started writing stories for his children, and was surprised by how much he enjoyed it.
For the past sixteen years Paul has run an IT company and played squash. He also quite likes cars. He continues to write books for fun, and his stories are thankfully better than his squash.
Paul lives in Lincolnshire with his partner Jenny, their two children, two labrador dogs who believe they are starving to death, and a deluded cat who is convinced he is a lion.
About eBookIt.com
Since 2010, eBookIt.com (based in Sudbury, Massachusetts) has helped thousands of authors and publishers get their books converted to ebook format, and distributed to all the major ebook retailers, including Amazon.com, Barnesandnoble.com, Apple iBookstore, Kobo, Sony Readerstore, Ingram Digital, and Google eBookstore.
###