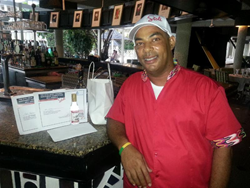 (PRWEB) November 26, 2014
Jamaican adults only resort Hedonism II is home to a highly skilled bartender who recently earned second place in the Stoli Most Original Bartending Competition 2014, impressing judges with a sugar-free cocktail featuring the popular indigenous "stinking toe" fruit.
The Stoli Most Original Bartending Competition 2014, held at the Seashore Grill in Montego Bay and sponsored by Stolichnaya Vodka, awarded Ralston Brown of Jamaica Pegasus first place with his signature cocktail, Lemon Basil. Joel Becker of Hedonism II Negril's main bar was awarded second place with the Holy Stoli Shake. Tahera Ricketts of Golden Eye placed third for her Caribbean Dreams cocktail.
Joel Becker impressed judges at the latest bartending competition with the Holy Stoli Shake, which featured Stolichnaya Vodka and the indigenous ingredient hymenaea courbaril, more commonly known as "stinking toe" or "locust." His award-winning concoction, which earned him a cash prize, a certificate, and a bottle of Stolichnaya Vodka, may also help to garner more fame and publicity for Hedonism II, where Becker has served as bartender for five years.
"We're very proud and honored to have such a phenomenal bartender as part of our staff at Hedonism," said general manager Kevin Levee, adding, "It's great to finally see his talent getting recognized. Joel is just one of many reasons why Hedonism II stands out among other adult only resorts."
Becker, who was recommended by Food and Beverage manager Jeffrey Johnson to enter this year's competition, is no stranger to the Stoli Most Original Bartending Competition. Becker was previously awarded third place when he entered the bartending competition for the first time last year.
Joel Becker may be found mixing more delicious cocktails at the main bar at Hedonism II, a clothing optional resort. Sip a taste of Becker's best cocktail by visiting Hedonism II, located at Rutland Point, Norman Manley Boulevard in Negril, Westmoreland Jamaica. Those interested may contact a staff member at 631-588-4336.
About Hedonism II
Hedonism II occupies 22 scenic acres of northern Negril Beach. The adult only resort aims to liberate visitors from the constraints of their day-to-day lives. Hedonism II invites people of all ages, relationship statuses, sexual orientations, and backgrounds to join in the celebration of hedonistic pleasure.