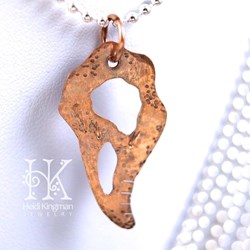 The piece was inspired by the sleek, bold ravens that are often within eyeshot here in Layton, I love their bold swagger and the fact that they don't shy away from their position. That's an attitude I see with a lot of young performers today
Layton, Utah (PRWEB) November 13, 2013
Heidi Kingman, designer/owner, Heidi Kingman Jewelry (http://www.heidikingman.com), is pleased to announce her Rockin' Raven Skull Necklace was part of the amazing swag that awaited Selena Gomez, members of her band and crew and select VIPS at the after party for the actress/singer's performance at the Staples Center in Los Angeles on November 6, 2013.
Heidi was invited to submit a piece of her jewelry for a specially prepared After Party Swag Bag, by The Artisan Group®, a California-based arts promotion group whose mission is to spread the word about the handcrafted movement.
The designer created the Rockin' Raven Necklace specifically for this gifting. And, although she would not receive details regarding receipients of the bag until November 7, she was told it would be a hip, young young female singer and members of her band and crew.
According to Heidi, she came up with the raven skull concept while doodling over a cup of tea and looking out at the Utah landscape that surrounds her home. "The piece was inspired by the sleek, bold ravens that are often within eyeshot here in Layton," said Heidi. "I love their bold swagger and the fact that they don't shy away from their position. That's an attitude I see with a lot of young performers today and something I admire."
Watch a Heidi Kingman Jewelry video.
Heidi was charged with making ten of the pendants, one for Selena and nine for gifting to band and crew members. Each pendant was sawed from bronze sheet metal, hand-forged and detailed and then placed on a sterling silver ball chain.
The Rockin' Raven Skull Necklace is available for purchase at HeidiKingman.com. Interested parties may also contact Heidi by email.
Watch a Heidi Kingman Jewelry video.
Heidi is no stranger to the rewards that can come from participating in celebrity gifting initiatives. In January, her Olde World Romance Earrings were worn by Abby (Persia White) on Episode 412 of The Vampire Diaries, after being selected from a gift bag that went to the show's wardrobe stylist, Leigh Leverett.
This spring, Heidi's Eco-Globe Bracelets, designed from recycled vintage scarves, were gifted to environmentally aware A-list celebrities, including Hayden Panettiere, Ginnifer Goodwin and Edward Norton, as part of The Artisan Group's 2013 Earth Day Gift Bag.
Heidi also had her Strike a Chord Bracelet included in celebrity and press swag bags at the Official Gift Lounge for the 46th Annual CMA Awards, where the bracelet landed in the hands of Carrie Underwood, Kelly Clarkson, Scotty McCreery and Zac Posen, among others.
Kingman says, "On a personal level, these projects provide a lot of visibility for my small business. On a more philosophical note, I'm always excited to spread the word regarding handcrafted goods. Invariably, the recipients of the pieces enjoy their artistry, but I think they love them all the more for the personal, hands-on effort that has gone into creating them."
Kingman's jewelry designs are geared to men and women who seek expressive, artistic adornments that aren't cookie-cutter. As a designer of wearable art jewelry, she seeks to strikes a balance between earthy and architectural, organic and industrial, primitive and modern.
In addition to celebrity gifting, Kingman is active in supporting charities with her jewelry designs. Most recently, she contributed her Guitar Shadows Dog Tag Pendant to a Joyful Child Foundation gift bag that was auctioned off for over $2,000.
Kingman's jewelry has been published in the Bead Trends Idea Book, December 2012.
To learn more about Heidi Kingman Jewelry, contact Heidi Kingman by phone or email. Become a fan on Facebook (HeidiKingmanJewelry) and follow the company on Twitter (@HeidiKingman). Shop Heidi Kingman Jewelry at heidikingman.com. For more information about The Artisan Group, visit theartisangroup.org.
ABOUT HEIDI KINGMAN
Never one to take the road most traveled, Heidi ventured a path through art, science and law, to jewelry design. A curious explorer who runs on coffee and finds work/life balance through meditation with hammer and pliers! What began as an inner exploration of creative curiosity, has now taken flight -- Heidi's intricately soulful designs (http://www.heidikingman.com) are popping up from Hollywood to the Europe. Her designs have been featured in the Bead Trends Idea Book and Step by Step Wire Jewelry.