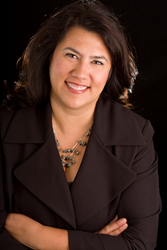 My clients are the reason I do what I do
Denver, CO (PRWEB) August 12, 2015
"It is a privilege to be named a Five Star Real Estate Agent. Thank you to my clients for taking the time to recommend me and favorably evaluate my service. My clients are the reason I do what I do," says Heidi.
Five Star Professional is pleased to announce Heidi P. Martinez, Coldwell Banker Devonshire, has been chosen as one of Denver's Five Star Real Estate Agents for 2015.
Five Star Professional partnered with 5280 magazine to recognize a select group of Denver-area real estate agents who provide quality services to their clients. Less than 7% of real estate agents in the area were selected. Heidi P. Martinez will be/is featured, along with other award winners, in a special section of the September issue.
The Five Star Real Estate Agent award program is the largest and most widely published real estate agent award program in North America. Agents are measured using an objective, in-depth research methodology with significant focus on customer feedback and overall satisfaction.
Heidi Martinez may have been born in Chicago, but she is undoubtedly a Colorado native at heart. Raised in the Mile High City, Heidi quickly discovered her passion for the Rocky Mountains and the Denver Metro area, so it's no surprise that she has found her place helping families find theirs since 1992.
Heidi earned her bachelor's degree in business and finance from Denver's esteemed Regis University, which laid the groundwork for her excellence in analytics. Her résumé covers everything from office and condo development and commercial tenant representation to senior housing and residential brokerage. She now credits her highly professional yet personal approach to this diversified background. Heidi brings a unique perspective to the way she does business—with simplicity, honesty and a steadfast commitment to understanding exactly what each client wants and needs.
Today, Heidi spearheads what is now a thriving and fast-growing local real estate business thanks to the help of countless referrals from happy clients. Urban living is the cornerstone of Heidi's work. It's what she knows and loves, which is why she focuses her efforts on Denver and its surrounding communities with a specialty in the downtown condo market. Heidi has made her own home in the heart of Colorado's capital city, and when she's not there, you can find her traveling or exploring the beautiful surrounding mountains.
Heidi is currently a member of the Denver Metro Association of Realtors and serves on the board of the Women's Council of Realtors Mile High Chapter. She looks forward to bringing her expert services to sellers and buyers alike and is proud to be a member of the premier team at Coldwell Banker Devonshire.
"Our list of local Five Star Real Estate Agents can be an invaluable resource for anyone looking to buy or sell a home. These agents are exceptional in their field and their commitment to client satisfaction; and are right in your backyard," Dan Zdon, CEO, Five Star Professional.
Heidi P. Martinez's Five Star award profile can be viewed here.
About the research process:
Now entering its 13th year, Five Star Professional conducts in-depth, market-specific research in more than 45 markets across the United States and Canada to identify premium service professionals.
Five Star Professional contacts thousands of recent homebuyers to identify award candidates. Phone, mail and online respondents rate their real estate agent on 10 satisfaction criteria. Candidates with a qualifying client satisfaction rating move on to be evaluated on objective criteria such as experience, production levels and disciplinary and complaint history.
Real estate agents do not pay a fee to be considered or awarded. For more information, visit http://www.fivestarprofessional.com.