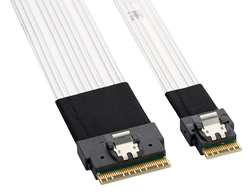 WILMINGTON, Mass. (PRWEB) September 26, 2017
Heilind Electronics, a leading global distributor of electronic components and authorized distributor for 3M, has expanded its selection of cabling solutions with the company's new SlimLine Twin Axial Cable Assemblies.
Qualified to SFF-8654 specification, SlimLine is one of 3M's several high-speed assembly products utilizing thin, low profile ribbon cable. In fact, it is lower profile than similar AWG twin axial cables – thus allowing for more packaging configurations and routing options within a server. The product also features foldable ribbon construction, enabling extremely tight bend radii without compromising performance.
Ideal for PCIe (85 ohm) applications, 3M's SlimLine features signal wire sizes of 30 and 31 AWG and standard lengths of 0.5 meter, 0.75 meter and 1 meter. It is offered in both x4 and x8 configurations, as well as straight and right angle options. Custom folded assemblies available.
Visit Heilind's website for more information about 3M SlimLine Twin Axial Cable Assemblies.
About Heilind Electronics
Heilind Electronics, Inc. (http://www.heilind.com) is one of the world's leading distributors of connectors, relays, sensors, switches, thermal management and circuit protection products, terminal blocks, wire and cable, wiring accessories and insulation and identification products. Founded in 1974, Heilind has locations throughout the U.S., Canada, Mexico, Brazil, Germany, Singapore, Hong Kong and China. Follow Heilind on Facebook at facebook.com/Heilind and on Twitter at twitter.com/Heilind.