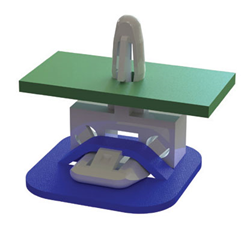 WILMINGTON, Mass. (PRWEB) October 23, 2017
Heilind Electronics, a leading global distributor of electronic components and authorized distributor for Essentra (formerly Richco), has expanded its selection of electronic components with the company's SMLCBS (Side Mount Locking Circuit Board Support) Series items.
The SMLBCS Series provides locking, spacing and guiding of printed circuit boards (PCBs) within electronic applications. It differs from standard board supports by sliding easily into a preformed slot, leaving no protrusion under the chassis. Furthermore, the SMLBCS is reusable and removable via a locking tab mechanism. The product is available in four spacer heights.
Visit Heilind's website for more information about Essentra's SMLCBS Series Side Mount Circuit Board Supports.
About Heilind Electronics
Heilind Electronics, Inc. (http://www.heilind.com) is one of the world's leading distributors of connectors, relays, sensors, switches, thermal management and circuit protection products, terminal blocks, wire and cable, wiring accessories and insulation and identification products. Founded in 1974, Heilind has locations throughout the U.S., Canada, Mexico, Brazil, Germany, Singapore, Hong Kong and China. Follow Heilind on Facebook at facebook.com/Heilind and on Twitter at twitter.com/Heilind.