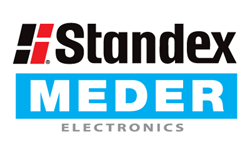 WILMINGTON, Mass. (PRWEB) October 19, 2017
Heilind Electronics, a leading distributor of electronic components, has added Standex-Meder Electronics to its growing portfolio of sensor manufacturers. Standex-Meder is the largest supplier of reed switches in the world and an industry leader in the design, engineering and manufacture of standard and custom electromagnetic components.
As an authorized distributor of Standex-Meder products, Heilind will stock a variety of sensor products, including value-added reed switch assemblies, stand-alone reed switches and reed switch-based relays. Additionally, it will provide transformers and other magnetic products used in military-aerospace applications.
To complement its out-of-the-box inventory, the company will also offer customized assemblies and custom reed- and capacitive-based liquid level sensors.
"With Heilind's growing sensor market and international customer base, Standex is a perfect fit," said Glen MacGibbon, Vice President of Business Development - Sensors, Heilind Electronics. "Not only is it the world's leading supplier of reed switches, but it also offers customized liquid level sensors and other packaged solutions. We look forward to offering these extended capabilities to our customers."
About Heilind Electronics
Heilind Electronics, Inc. (http://www.heilind.com) is one of the world's leading distributors of connectors, relays, sensors, switches, thermal management and circuit protection products, terminal blocks, wire and cable, wiring accessories and insulation and identification products. Founded in 1974, Heilind has locations throughout the U.S., Canada, Mexico, Brazil, Germany, Singapore, Hong Kong and China. Follow Heilind on Facebook at facebook.com/Heilind and on Twitter at twitter.com/Heilind.