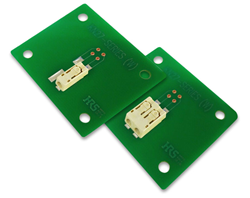 WILMINGTON, Mass. (PRWEB) October 26, 2017
Heilind Electronics, a leading global distributor of electronic components and authorized distributor for Hirose, has added the manufacturer's KN27 Series LED lighting module connectors to its extensive inventory of interconnect products.
KN27 Series connectors feature a smaller footprint than standard LED lighting connectors, with a height of only 4.2 mm and a length of 11.85 mm. In addition, these RoHS-compliant connectors offer a high current rating of up to 9 A.
Aside from its 2-point contact engagement, one of the unique features of the KN27 Series is its toolless "strip and poke" design. Furthermore, the product is constructed with a guide for easy cable connection and a lever for easy disengagement. As a result, the KN27 Series connector offers a more reliable termination than traditional terminal blocks in LED lighting module applications.
Hirose's KN27 Series LED lighting module connectors are used in a wide variety of applications, including LED lighting, distribution boxes, lighting controls, HVAC and building automation.
Visit Heilind's website for more information about Hirose KN27 Series LED Lighting Connectors.
About Heilind Electronics
Heilind Electronics, Inc. (http://www.heilind.com) is one of the world's leading distributors of connectors, relays, sensors, switches, thermal management and circuit protection products, terminal blocks, wire and cable, wiring accessories and insulation and identification products. Founded in 1974, Heilind has locations throughout the U.S., Canada, Mexico, Brazil, Germany, Singapore, Hong Kong and China. Follow Heilind on Facebook at facebook.com/Heilind and on Twitter at twitter.com/Heilind.