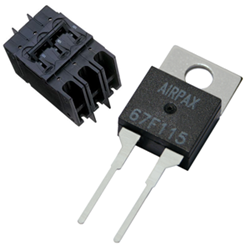 WILMINGTON, Mass. (PRWEB) July 22, 2019
Heilind Electronics, a leading distributor of electronic components, has expanded its Sensata Technologies offering by adding Sensata-Airpax - a leading innovator and manufacturer of hydraulic-magnetic circuit breakers and protectors, bimetal thermostats, power switches and modular distribution systems.
The new line will complement Heilind's existing Sensata Technologies portfolio, which includes industry-leading sensing, electrical protection, control and power management solutions.
"We are very pleased to expand our existing Sensata offering with Sensata-Airpax," said Glen MacGibbon, Vice President of Business Development - Sensors, Heilind Electronics. "Sensata's ever-expanding sensor offering, combined with power distribution, makes for a powerful solution that can benefit a wide array of customers. These products are RoHS-compliant and manufactured in ISO-certified facilities around the world. As a result, we are able to offer a reliable and diverse set of power distribution items to our global customer base."
Sensata-Airpax products span a wide range of industrial and commercial applications, including telecommunications, recreational vehicles, HVACR, marine, military, medicine, information processing, electronic power supply, power generation, over-the-road trucks, construction, agriculture and alternative energy.
Heilind Electronics will be offering Sensata's complete Sensata-Airpax product line. Visit Heilind's website for more information about Sensata-Airpax power distribution products.
About Heilind Electronics
Heilind Electronics, Inc. (http://www.heilind.com) is one of the world's leading distributors of connectors, relays, sensors, switches, thermal management and circuit protection products, terminal blocks, wire and cable, wiring accessories and insulation and identification products. Founded in 1974, Heilind has locations throughout the U.S., Canada, Mexico, Brazil, Germany, Singapore, Hong Kong and China. Follow Heilind on Facebook at facebook.com/Heilind and on Twitter at twitter.com/Heilind.
About Sensata Technologies
Sensata Technologies is a world leader and early innovator in mission-critical sensing, electrical protection, control and power management solutions. Sensata's operations span twelve countries and cover a broad range of markets, including aircraft, appliance, automotive, HVAC, industrial, marine, military and telecommunications. Visit http://www.sensata.com and airpax.sensata.com for more information.