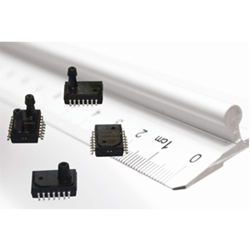 WILMINGTON, Mass. (PRWEB) November 19, 2018
Heilind Electronics, a leading global distributor of electronic components and authorized distributor for Amphenol Advanced Sensors, has expanded its selection of sensor solutions with the company's NovaSensor NPA Series low pressure sensors.
Packaged in a SOIC14-pin surface mount, the NPA Series is available in gauge, absolute and differential pressure ranges with mV, amplified analog or digital outputs. The sensors feature a miniature footprint for optimal printed circuit board (PCB) mounting and are delivered in tape and reel form to simplify manufacturing handling. In addition, they can accommodate temperatures ranging from minus 40 to 125 degrees Celsius.
With a low total error band, another key feature of these sensors is their accuracy. Digital compensation of the signal offset, sensitivity, temperature and non-linearity is accomplished via a 14-bit internal digital signal processor (DSP) running a correction algorithm.
NPA Series sensors are used in numerous applications, including sleep apnea, ventilation, anesthesia, Delta pressure flow, HVAC, passenger oxygen systems, cabin climate control and air filtration monitoring.
Visit Heilind's website for more information about NPA Series low pressure sensors.
About Heilind Electronics
Heilind Electronics, Inc. (http://www.heilind.com) is one of the world's leading distributors of connectors, relays, sensors, switches, thermal management and circuit protection products, terminal blocks, wire and cable, wiring accessories and insulation and identification products. Founded in 1974, Heilind has locations throughout the U.S., Canada, Mexico, Brazil, Germany, Singapore, Hong Kong and China. Follow Heilind on Facebook at facebook.com/Heilind and on Twitter at twitter.com/Heilind.