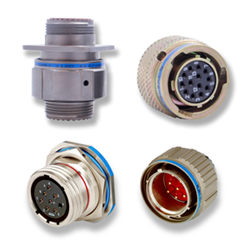 WILMINGTON, Mass. (PRWEB) July 16, 2018
Heilind Electronics, a leading global distributor of electronic components and authorized distributor for Amphenol Aerospace, is now stocking the manufacturer's MIL-DTL-38999 Series I, II and III subminiature circular connectors. The assortment of MIL-DTL-38999 connectors offered by Amphenol Aerospace is the largest in the world, adding to Heilind's existing extensive portfolio of harsh environment interconnects.
Available in both commercial off-the-shelf (COTS) and MIL-SPEC versions, these fully QPL'd connectors are EMI-shielded and resistant to corrosion and extreme temperatures. MIL-DTL-38999 connectors also feature a 100% scoop-proof design for contact protection and quick positive coupling for easy mating.
Because of their versatility and superior resistance to shock and vibration, MIL-DTL-38999 Series III (D38999 Tri-Start Series III, TV) connectors have become the standard for rugged environments. Series III connectors are available in composite, aluminum and stainless steel shells, as well as cadmium olive drab, zinc cobalt, electroless nickel and RoHS-compliant black zinc nickel plating. In addition, the connectors feature a variety of coupling mechanisms and insert arrangements. Hermetic versions are offered for all three series.
MIL-DTL-38999 connectors are used in a wide range of COTS and military-aerospace applications, including aircraft, ships, missiles and ordnance, space and military ground vehicles, communications equipment, medical instrumentation and high-reliability test equipment.
Visit Heilind's website for more information about Amphenol Aerospace MIL-DTL-38999 Harsh Environment Connectors.
About Heilind Electronics
Heilind Electronics, Inc. (http://www.heilind.com) is one of the world's leading distributors of connectors, relays, sensors, switches, thermal management and circuit protection products, terminal blocks, wire and cable, wiring accessories and insulation and identification products. Founded in 1974, Heilind has locations throughout the U.S., Canada, Mexico, Brazil, Germany, Singapore, Hong Kong and China. Follow Heilind on Facebook at facebook.com/Heilind and on Twitter at twitter.com/Heilind.