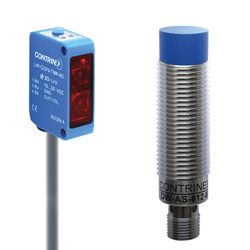 WILMINGTON, Mass (PRWEB) October 22, 2019
Heilind Electronics, a leading global distributor of electronic components and authorized distributor for Molex products, has expanded its portfolio of Molex industrial automation solutions to include Contrinex inductive and photoelectric sensors.
Molex Contrinex inductive sensors provide non-contact detection of metallic targets at distances up to 40 mm. Vacuum-encapsulated electronics and metal housings protect against shock, vibration, dust, dirt and moisture, making inductive sensors ideal for highly demanding conditions. In addition, the sensors are rated to IP68 and IP69K and sized from M8 to M30. Uses include industrial limit switches and position switches, as pulse-counting devices, or for distance and speed measurement.
Ideally suited for the presence control of transparent objects, Molex Contrinex photoelectric sensors deliver long-distance, non-contact detection of metallic and non-metallic targets. Utilizing its patented UV technology, the sensor system contains an LED that emits polarized UV light and a reflector made of specialized materials. Contrinex photoelectric sensors accommodate variable target color and surface finish and ensure transparent object detection within a 1200 mm range.
The integration of Contrinex inductive and photoelectric sensors into the Molex product portfolio presents designers with a wide range of sensor solutions for Industrial Internet of Things (IIoT) applications. Visit Heilind's website for more information about Molex Contrinex Inductive and Photoelectric Sensors.
About Heilind
Heilind Electronics, Inc. (http://www.heilind.com) is one of the world's leading distributors of connectors, relays, sensors, switches, thermal management and circuit protection products, terminal blocks, wire and cable, wiring accessories and insulation and identification products. Founded in 1974, Heilind has locations throughout the U.S., Canada, Mexico, Brazil, Germany, Singapore, Hong Kong and China. Follow Heilind on Facebook at facebook.com/Heilind and on Twitter at twitter.com/Heilind.
About Molex
Molex brings together innovation and technology to deliver electronic solutions to customers worldwide. With a presence in more than 40 countries, Molex offers a full suite of solutions and services for many markets, including data communications, consumer electronics, industrial, automotive, commercial vehicle and medical.