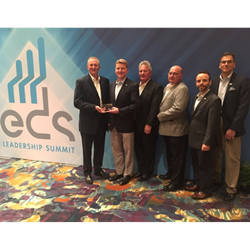 WILMINGTON, Mass. (PRWEB) May 16, 2019
Heilind Electronics, a leading global distributor of electronic components, was just named this year's #1 electronics distributor. The award was announced at last week's Electronic Distribution Show (EDS) in Las Vegas, and was based on results from an annual customer satisfaction survey conducted by Bishop & Associates -- the leading market research firm for the interconnect industry.
Over 1,000 participants completed the survey, which compared the performance of the top 11 electronics distributors in North America. The 2019 award is the seventh consecutive for Heilind, who ranked #1 in nearly every category -- including on-time delivery; breadth of product offering; sales and technical support; and ease of doing business. The company ranked high in terms of overall distributor preference.
"I am thrilled to accept this award on behalf of everyone at Heilind," said Bob Clapp, founder and CEO of Heilind Electronics. "The fact that we were rated first again in almost every category is a testament to the dedication of our team members throughout the company. It also demonstrates that our customers are our top priority."
About Heilind Electronics
Heilind Electronics, Inc. (http://www.heilind.com) is one of the world's leading distributors of connectors, relays, sensors, switches, thermal management and circuit protection products, terminal blocks, wire and cable, wiring accessories and insulation and identification products. Founded in 1974, Heilind has locations throughout the U.S., Canada, Mexico, Brazil, Germany, Singapore, Hong Kong and China. Follow Heilind on Facebook at facebook.com/Heilind and on Twitter at twitter.com/Heilind.