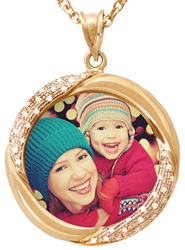 Here at PhotoScribe each piece is handmade and handled like it is our very own. For the person who wears this piece, it symbolizes love and family.
New York, NY (PRWEB) November 16, 2015
With December around the corner, the need to sort out the holiday gift list is looming and inevitable. With so many options available it can be hard to choose something at all, much less something that can fulfill being meaningful, fashion-forward, and long lasting at once. PhotoScribe has the answer to the season with their new heirloom photo jewelry. The perfect gift for grandparents and parents, PhotoScribe's jewelry allows for anyone to carry a loved one wherever they go. Customized with a variety of styles for men and women, and available in various photo finishes and in stainless steel, silver, yellow and white gold, the options and price-points are fit for every style and budget. Diamonds and colored gemstones and the incorporation of birthstones are also optional.
Cherish moments from special events for a lifetime on a pendant, or sneak daily glances at the portrait of a loved on a keychain. This holiday gift is the perfect tradition to pass on from generation to generation. Create a further personal touch by incorporating a message on PhotoScribe's heirloom jewelry, written in one's own handwriting or laser engraved with a quote or date. To ease the holiday stress, PhotoScribe offers free two-day shipping on holiday orders, as well as complimentary gold gift-wrapping.
Carol Dounn, VP of PhotoScribe says, "Here at PhotoScribe each piece is handmade and handled like it is our very own. For the person who wears this piece, it symbolizes love and family. We take this one precious moment and we encapsulate that moment in gold and silver and the memory is forever. We are very proud to be a part of that gift."
Unique in their use of patented technology, PhotoScribe Heirloom Jewelry is the only photo jewelry company in the world that permanently engraves the metal, covering it with a patented mineral watch crystal layer that ensures the jewelry is both water-resistant and scratch free. The company's laser printing is done in black and white and the color enamel process reveals the true color of an image on an item. Other photo jewelry is laser engraved and begins to fade within a year or two on average. Every piece has a lifetime warranty.
Commemorating the memory of a loved one is easy with PhotoScribe's simple ordering process. Customers select the desired item and upload the image. Then, if the image is approved the same day, the product is manufactured and ready to be shipped within two weeks.
For more information about PhotoScribe and to see the full heirloom collection, visit http://www.photoscribe.com or use their Contact form. For inquiries regarding this release contact Olga Gonzalez at info(at)pietrapr(dot)com.
About PhotoScribe: The world's leading innovator in photo jewelry technology and development, PhotoScribe has several patents relating to their permanent image process. Preserving memories for a lifetime, the company creates enduring images made to last for generations. PhotoScribe, where modern time capsule photo jewelry meets style.