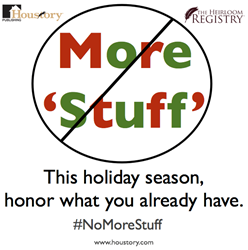 We're encouraging people to re-think the relationship they have with their belongings before they head out shopping for things they may not really need or even truly want.
Ferndale, Wash. (PRWEB) November 24, 2015
The Heirloom Registry's fourth "No More Stuff" campaign will officially kickoff with "White Friday," an alternative to Black Friday that encourages shoppers to stay home with families and have fun with family history instead of simply buying more "stuff."
"Instead of waking up earlier and earlier on Friday, battling the traffic and fighting the crowds for more stuff, what if you gave White Friday (#WhiteFriday) a try instead?" asks Mike Hiestand, Heirloom Registry founder. "We've run our campaign to encourage people to re-think the relationship they have with the objects and things that surround them before they head out shopping for things they may not really need or even truly want."
The holiday campaign (#NoMoreStuff) runs from Nov. 27 through Dec. 31. It first started in 2012, but the declaration of White Friday as the official launch date is new to 2015. Participation in White Friday is easy, Hiestand explains. Participants sleep in, have a leisurely breakfast and then gather family and a few family heirlooms from around the house.
"Maybe it's an old family clock. Or a table that's hosted family gatherings (such as Thanksgiving dinner the day before). Or a treasured family photo," Hiestand said. "You write down their stories. Here's what I promise: You will learn something memorable you didn't know before, you will smile, and in years to come, you (and your family) will appreciate this simple gift more than almost anything else you could buy at 4 a.m."
Hiestand said the company hopes that campaign supporters will record and preserve the stories behind 840 family heirlooms — or one for every hour of the campaign — and then upload pictures of their efforts to social media with the hashtags #NoMoreStuff and #WhiteFriday.
The Heirloom Registry is providing participants with a free, downloadable form that will help families collect some of the more pertinent information. When finished, family members simply attach the form to the back of the "heirloom" or file it with your important documents.
Participants can also use The Heirloom Registry — for free — by signing up this holiday season for a complimentary registration number when visiting the company's Web site.
"The important thing is that you do it," Hiestand said. "All too often, the stories of our family heirlooms usually disappear with our family members. And an heirloom without a story is — as we say — just more stuff."
About The Heirloom Registry
The Heirloom Registry is a service from Houstory. Record a family heirloom's history in The Heirloom Registry, and its story travels with it. Always. Inexpensive, simple: Tag heirlooms with Registry IDs, and share stories in words and pictures at http://www.heirloomregistry.com. Registered stories are permanently accessible to future owners.
###