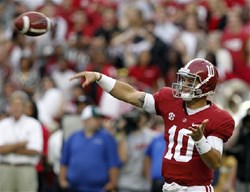 (PRWEB) November 25, 2013
As the season is winding down, the Heisman race is narrowing down to only a few candidates as well. Those who lost their chance at the prestigious trophy will have a tough time getting back into the top slots now. But then again, this is college football, and crazier things have happened before.
The following players represent the top 5 candidates eager for that Heisman award, their positions and years in school:
1. Jameis Winston – Quarterback, FSU, Freshman.
2. Johnny Manziel – Quarterback, Texas A&M, Sophomore.
3. Bryce Petty – Quarterback, Baylor, Junior.
4. Marcus Mariota – Quarterback, Oregon, Sophomore.
5. AJ McCarron – Quarterback, Alabama, Senior.
Jameis Winston has been proving himself as the most worthy Heisman Trophy candidate game after game, since the very beginning. This redshirt freshman has consistenly played with poise and composure, even during his biggest challenges. He led his team over the top ranked Clemson, then Florida rivals Miami. His next big test will be Florida, and this game will ultimately determine is BCS and Heisman fate.
Johnny Manziel was last year's winner as a redshirt freshman. He has come back in his sophomore year playing extremely well, even when his team loses. Johnny is the one candidate that has seemed to remain Heisman worthy even as his team continues to fall. His next Heisman test will be against LSU, and this could really determine a lot in the race. Stay tuned and purchase Texas A&M football tickets at Ticketmonster.com.
Bryce Petty is the quarterback for Baylor, a team who is just rolling this season. The Bears are undefeated, and score more points every game then any other team, even Alabama. His next contests are against Oklahoma State and Texas, and these will not be easy tasks. The last fews games of the season will mean a lot for this junior quarterback.
Marcus Mariota would probably be higher on this list if it weren't for Oregon's recent loss to Stanford. He bounced back against Utah after the fall, but still remains at number 4. Mariota is still the only quarterback in the country to have yet thrown an interception, which is kind of a big deal.
AJ McCarron has led his team to the BCS Championship two times, and will be looking for his third this year. Although he continues to lead the best team in the nation, this star has yet to win the Heisman and it doesn't look like this year will be any different. With possibly three BCS wins and more wins in his career than any other Alabama quarterback, why is he not more entitled to this trophy?
There is no better place than Ticket Monster for fans to find their college football tickets. http://www.Ticketmonster.com has Alabama tickets, FSU tickets, and many more. Fans that visit the site can find the lowest prices on the web, an active blog, and easy read schedules. Visit the site today for more information.