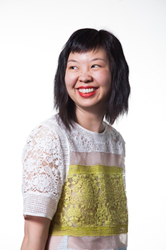 This is an amazing time to be part of the transformation that is happening in hiring.
San Francisco, CA (PRWEB) June 24, 2014
SmartRecruiters, the only end-to-end hiring platform that managers and candidates love, today announced that Helen Yu joined the company as Senior Director of Product Marketing. She will use her extensive experience driving revenue-focused product marketing programs to build SmartRecruiters' global user base.
Yu has spent more than a decade marketing fast growing technology companies and leading high performance teams. Most recently, she headed product marketing at Rypple, which Salesforce.com acquired in 2011. Her previous roles include developing and managing integrated product marketing campaigns at GoodData, Zendesk and Symantec.
"Helen is a key addition to the team who will steer our product marketing strategy throughout this important next phase of innovation and growth," said Jerome Ternynck, CEO of SmartRecruiters. "Her expertise driving product marketing and engagement will enable us to accelerate the adoption of the SmartRecruiters platform. We look forward to the impact Helen will have on our mission to revolutionize recruiting and hiring."
Since its founding in 2010, SmartRecruiters has enabled 70,000+ businesses across a multitude of sectors—including retail, tech and healthcare—to reduce their time to hire by 75 percent and cost to hire by 70 percent, while increasing applicant volume by 250 percent.
"I'm impressed with SmartRecruiters' commitment to reinventing the hiring and recruiting space," said Yu. "I look forward to being part of an exceptional team that is delivering on the vision for a platform that provides the best possible experience to both businesses and candidates. This is an amazing time to be part of the transformation that is happening in hiring."
About SmartRecruiters
SmartRecruiters is the hiring platform to source, engage and hire top talent. The SmartRecruiters platform gives hiring managers and recruiters everything they need to post a job, manage candidates and make the right hire. The SmartRecruiters hiring platform offers recruiting management software deeply integrated with the best recruiting service providers to make hiring social, collaborative, enjoyable and easy. Founded in 2010, SmartRecruiters is backed by Mayfield and Rembrandt Ventures and is based in San Francisco, CA. Its 70,000+ organizations have already created 450,000+ jobs.
Read the blog: http://www.smartrecruiters.com/blog/
Follow us on Twitter: @smartrecruiters