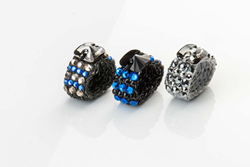 These are rings with attitude... telling the world the wearer has a artful soul and a sense of individuality.
United Kingdom (PRWEB) March 30, 2016
Helena G (http://www.helenag.net) in association with The Artisan Group®, will participate in an exclusive celebrity gift lounge event hosted by GBK Productions, leading up to the MTV Movie Awards telecast. The Gift Lounge will take place on April 8-9, 2016 at an exclusive location in Los Angeles, California.
Founder/designer Helena Georgiades' best-selling DASH & DACE bespoke knitted statement rings will be included in The Artisan Group's celebrity swag bags. Each ring has been individually knitted by Helena and features the finest quality Italian yarn and an array of brilliant Swarovski Crystals in summer colors like navy, red, turquoise, coral, ivory and pastel pink. Gift recipients will find their Helena G ring tucked inside a limited edition macaroon style gift box, enclosed in a black organza bag.
"These are rings with attitude," said Helena. "They are the perfect jewelry choice for discerning trend-setters and fashionistas of all ages, and tell the world the wearer has artful soul and a sense of individuality."
At the Artisan Group exhibit, Helena G will have on display a selection of bespoke luxury knitted cuff bracelets encrusted with Swarovski Crystals and semi-precious stones and knitted with high quality Italian yarn.
"I worked with The Artisan Group to gift my jewelry to celebrities at GBK's 2016 Golden Globes Gift Lounge, which led to exciting opportunities with Jet Set and other magazines," said Helena. "I'm pleased to partner with them again for the MTV Movie Awards and look forward to introducing my jewelry line to the hip young trendsetters that will be attending this event."
Helena G offers unique, standout accessories that cannot be found elsewhere. The company's most popular design is its one-size-fits-most DACE rings, which are funky, fresh, easy to wear, light and comfortable.
Helena has a BaHons Textiles Degree and says, "I am passionate about fiber – I love the creative process, from choosing yarns to developing and creating a wearable product." She specializes in working with luxury yarns sourced from Italy, the finest Swarovski Crystals and 100 percent natural semi-precious gemstones. She works internationally and has clients from London to Las Vegas to Cyprus and beyond. Her creative approach ensures that no two pieces are ever the same.
Most recently, Helena G has been featured in Vogue UK, Glamour, Fashion & Style and the London Evening Standard. She welcomes custom design requests and also enjoys creating gift favors for weddings and other special events.
To learn more about Helena G, contact Helena Georgiades by email using the Contact button at the top right of this press release. Become a fan on Facebook (HelenaG) and follow the company on Twitter (@HelenaGnet).
Shop Helena G at helenag.net and etsy.com/shop/HGknitsandbits
For more information about The Artisan Group, visit theartisangroup.org.
*Neither Helena G nor The Artisan Group are officially affiliated with MTV or the MTV Movie Awards.
ABOUT HELENA G
Helena G (http://www.helenag.net) is the home for hand knitted jewelry and accessories made with love, care and attention by Helena Georgiades.
ABOUT THE ARTISAN GROUP
The Artisan Group® (http://www.theartisangroup.org) is a premier entertainment marketing group dedicated to representing small business artisans at the best celebrity gift lounges and press events. The organization provides a collective sampling of handcrafted products to celebrities and members of the press at top luxury gift lounges such as those leading up to The Academy Awards, The Golden Globes, The MTV Movie Awards and The Primetime Emmys.
The Artisan Group also coordinates product placement of its member's handcrafted products on such hit television shows as The Voice, The Vampire Diaries, Days of Our Lives, The Young & The Restless, Modern Family, Jane The Virgin and Law & Order: SVU, among others. Membership in The Artisan Group is juried and by invitation only.