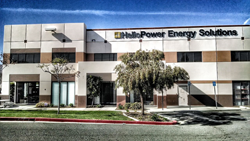 Murrieta, CA (PRWEB) July 29, 2014
HelioPower, Inc., an integrated energy solutions provider based in Murrieta, CA, is pleased to announce the completion of an in-house product showroom for its headquarters. To thank their Inland Empire residential solar and commercial solar customers for their loyalty and support, HelioPower is offering a free BBQ celebration catered by Murrieta favorite, Richie's Real American Diner, with Hawaiian ice refreshments served by Kona Ice on Thursday July 31, from 4 p.m. to 7:30 p.m.
In addition to prizes, residential solar demonstrations, warehouse tours, and informational talks about emerging solar technologies and residential battery-backup, the entire HelioPower Murrieta staff will be onsite to meet and greet new and existing customers, as well as chat about energy in general, and residential solar in particular. HelioPower's mission is to help its customers save money on their energy bills and to that end, HelioPower will present a $25.00 Visa Gift Card to anyone without solar who brings a recent electric utility bill, which is on top of HelioPower's standard $500.00 referral check made out to anyone bringing a friend who chooses to "Go Solar" with HelioPower.
Local business leaders and the Murrieta Chamber of Commerce will be present for the official ribbon cutting. HelioPower is located in the Inland Empire at 25747 Jefferson Avenue, Murrieta, CA. Anyone desiring to R.S.V.P. should contact HelioPower at (951) 677-7755.
About HelioPower, Inc.:
HelioPower is an integrated energy solutions company with more than 4,000 solar and clean energy systems, engineered and installed since 2001. Founded in 2001, HelioPower's mission is to reduce energy costs & develop energy assets by leveraging renewable energy production, demand side management, and return on investment strategies for clients in the U.S. and abroad. For more information, visit http://www.HelioPower.com.