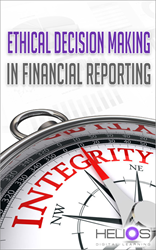 Helios e-Cases get Millennials thinking about how what they are learning now connects to the world they are preparing to enter.
Chicago, Illinois (PRWEB) October 20, 2015
Helios Digital Learning has joined forces with Pearson to make Helios e-Cases available to Pearson's accounting textbook users. The Pearson Helios Bundles offer instructors a curated collection of video-enhanced, first person stories that showcase real world applications of accounting principles and bring to life ethical dilemmas students may face when they enter their accounting careers. The bundles are paired with selected Pearson textbooks and include instructions on how to integrate the e-cases into an existing course syllabus.
"We are excited to collaborate with Pearson to provide instructors with an innovative and engaging way to bring the real world into the course. Helios e-Cases get Millennials thinking about how what they are learning now connects to the world they are preparing to enter. The e-cases spark spirited discussions about what it means to behave ethically while also improving ethical decision making frameworks," said Kelly Richmond Pope, Ph.D., CPA, Chief Content Officer of Helios Digital Learning and an associate professor in the School of Accountancy and Management Information Systems at DePaul University. "They provide an easy way for accounting programs and instructors to incorporate ethics into their curriculum."
Pearson's VP, Editorial Director of Business and Economics, Donna Battista, said, "According to the U.S. Bureau of Labor Statistics, employment of accountants is expected to grow faster through 2018 than for all the occupations the bureau tracks. Through our strategic collaboration with Helios, we are increasing access to high quality, relevant digital course content that is designed to increase student engagement and improve academic and career outcomes in the field of accounting."
Interested educators can learn more about the Pearson Helios Bundles by contacting their Pearson representative or Helios Digital Learning.
Helios Digital Learning is also offering a free webinar called, "Effective Ways to Incorporate New Media into Accounting Courses" on the dates listed below. Instructors interested in participating can register at http://bit.ly/hdlwebinar or visit http://www.heliosdigital.com/webinar for more information.
Webinar Dates
11/3/15 9:00AM CT
11/6/15 3:00PM CT
About Helios Digital Learning
Helios Digital Learning uses first-person storytelling, gamification and adaptive learning to help business professionals and students improve their ethical decision making. Our approach enables learners to virtually simulate their ethical responses through immersion in real life stories and exercise their ethical decision-making muscle with immediate feedback through games. For more information visit http://www.heliosdigital.com.