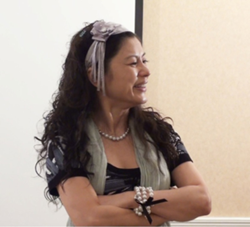 Nowadays, marriage is made extremely complicated with the array of requirements that people think needed to be in place.
Los Angeles, CA (PRWEB) October 20, 2014
A recent report from Bowling Green State University's National Center for Marriage and Family Research revealed a historic low in marriage rates over a span of several decades.
The current U.S. marriage rate is 31.1, or 31 marriages per 1,000 unmarried women. This means that for every 1,000 unmarried women in the U.S. 31 women got married.
Yet the national marriage rate of 1920 was 92.3.
At an interview in Los Angeles, relationship consultant and 3 time #1 bestselling author Hellen Chen reveals the common fears of singles committing to marriage.
"Marriage used to be as simple as 2 people falling in love and then deciding to spend the rest of their lives together and to raise a family. Nowadays, marriage has become extremely complicated with the array of requirements that people try to follow," said Chen.
Chen spoke about the lack of money and how that has been a top "fear" for a couple to commit to marriage. There are couples who delay getting married for several years with the reason of trying to make enough money to have "financial security."
For singles who want to find someone of reasonable income, asking how much the other person makes and how he or she spends it, has become a top criteria for their Mr. or Ms. Right. There are websites which are offering dating with singles with high credit score ratings.
Another top factor is "trust." Chen talked about many singles complaining there's "no good men/women" out.
"It is definitely not true that there are no good qualified singles out there with money and character. But why aren't the complaining singles finding the 'good' men or women? Why would luck have it that many happy couples do find each other while those remaining single complain about the lack of good people?" said Chen.
Chen revealed that many singles have spent tremendous time and money to "date."
Dating time has increased among singles and yet the prolonged dating time, usually to "check out" another person, did not reduce the eventual divorce rate that is skyrocketing worldwide.
"It becomes a vicious cycle. After people fail in marriages, they decide that they should have 'spent more time' to check out another person and to decide if they had found Mr. or Ms Right. And they take even longer to date another person. I have seen people who dated for 10 years. And after they tied the knot, within 3 years they still divorced." Chen shared.
Chen pointed out the ironic part of how most dating singles would enthusiastically do everything they could for their potential partners and yet after marriage, they stopped doing what they were doing before the marriage, disappointments set in and the marriage went downhill very fast.
Chen, whose marital advice has been showcased in over 200 publications, radio and TV interviews in 20 countries worldwide, has earned her title of being "the Matchmaker of the Century" as she has helped over 100 men and women who have been too skeptical and too heartbroken about stepping into marriage. As a bestselling author, she has written 25 books on the subject.
"Maybe all the emphasis on having to find the 'perfect' one is a hoax. If one does not have the ability to make a marriage last, having that Mr. or Ms. Right can't make a difference in the long run!" said Chen.
To help singles and couples to learn how to make a marriage last, Chen has started a series of Love Seminars around the world. Chen's next Love Seminar will be in Los Angeles on Oct 25th 2014. Learn how to FIND your perfect match without wasting time to search endlessly, how to keep the passion in a marriage, beyond the daily life routine, and more.
For more information about the love seminars, call 800-912-0510 for information or visit http://MatchmakerOfTheCentury.com