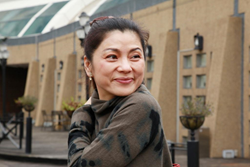 It is simply not true that the longer one gets married, there is less love.
Los Angeles, CA (PRWEB) March 09, 2015
Having written 25 books on the subject of relationships and personal improvement, bestselling author and matchmaker extraordinaire Hellen Chen travels the world lecturing tens of thousands of men and women on how to experience a "happily ever after" relationship with their partners.
On March 21st, she is arriving in Los Angeles to deliver a special seminar on love and relationships.
Chen's famous advice of "marry first, date later" is a shocker for most who are used to the concept of dating carefully first before selecting the right partner for marriage.
This unconventional matchmaker has however used this philosophy to successfully match couples together who then stay together. She encourages singles not to spend time, money and energy going around dating, but rather to look for someone who seriously wants to get married.
When asked about why modern dating is deterring men and women from reaching their relationship goal, Chen explained in a recent interview, "90% of dating ends in breakups. When a person accumulates too many breakup experiences, he or she no longer believe there is a lasting relationship."
According to this matchmaker, most people spend too much time and energy to date before marriage and after marriage, they stop working hard at their relationship.
"Many couples stop doing what they were doing while dating. It is simply not true that the longer one gets married, there is less love." said Chen.
Having been married for over 20 years, Hellen Chen shared her personal experience, "There is no luck involved in having a good relationship. Love is an ability that can and must be learned."
To bring her message about managing love and relationships, Chen had given over 200 international media interviews, has publications in 20 countries and also actively holds training workshops to teach singles and couples how to improve the quality of love in their life.
Her workshop "Hellen Chen's Love Seminar" helps working professionals have a lasting relationship and is open to both singles and married individuals.
Her next event will be held in Los Angeles on March 21. For registration details, please call 800-912-0510 or visit http://www.MatchmakerOfTheCentury.com