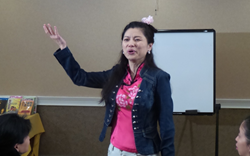 The more important lessons of managing relationships and fulfilling one's role in the home have been pushed to the background
(PRWEB) December 01, 2014
Data from more than 200 countries collected by the Statistics Division of the U.N. revealed that the U.S. ranked fifth among the countries with the highest divorce rates in the world.
A recent study by the Center for Disease Control and Prevention (CDC) revealed that the balance between new marriages and divorces was at a ratio of 2:1; for every two new marriages that took place, there was an ongoing divorce.
Such figures are discouraging, which begs the question why divorce rates are on the rise.
According to relationship and marriage expert Hellen Chen, one simple reason is that there is inadequate marriage education among those who are getting married today.
"There are classes for almost anything – science, technology and even the study of human behavior, but how many young people can confidently say they have been taught how to fulfill the role of a husband or wife?" asked Chen, a renowned author who has written more than 20 books on relationships and has traveled to numerous countries to hold seminars on the same.
"Unfortunately, people today are more knowledgeable about their iPhones than they are about how to be a good spouse," she added.
Five to six decades ago, passing on wisdom on the role of a man or woman in the family was a way of life. This was usually done by grandparents, parents and older relatives. Schools and churches were also keen about passing along this type of education.
Today, with greater scientific and technological advancement, academic achievement tends to focus more on whether a student gives the right answers in a test or what kind of job he or she will get after graduation. The more important lessons of managing relationships and fulfilling one's role in the home have been pushed to the background.
"Being an "A" student is great, but the same amount of effort should go towards one of the most important part of our adult lives – managing our marriages and families. I am yet to meet someone that has never dreamed of experiencing true love," said Chen.
Chen said, "We have been taught to walk away from problems. If you don't like a job, quit. If you don't like your parent, just stop talking to them. If you don't like your spouse, divorce. Thus in my seminars, I encourage people to take a different attitude. Instead of saying, 'Who cares?' Why not say, What can I do to be there for you?' or 'How can I learn to be a better wife or husband or parent or child?"
Having brought together many married couples who had been resistive about marriage in the first place and then helping them to stay in marriage afterwards, Chen also shares real-life stories in her latest book "The Matchmaker of the Century" which has become a number one bestseller in marriage books at Barnes and Noble.
"Marriage infidelity, conflicts on money, the lack of romance etc could all be resolved a lot sooner before heading towards the divorce courts. Husband and wives need to learn communication skills which unfortunately are not taught in our schools." said Chen.
In order to provide the much needed marriage education, the matchmaker extraordinaire will be hosting a Love Seminar in Los Angeles California on December 27. The event is recommended for singles and divorcees looking to find their perfect match, as well as married couples looking for happiness in their marriage.
For more information, please visit http://MatchmakerOfTheCentury.com/.