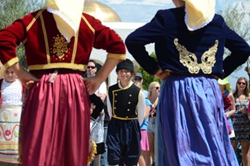 "Our parishioners are guided by the light and warmth of our faith and heritage. We sincerely thank those who attended our festival, and we welcome you to continue rejoicing with us."--Rev. Father Michael Sitaras, pastor of Saints Constantine and Helen
CARDIFF-BY-THE-SEA, CA (PRWEB) September 15, 2014
Under its gleaming gold dome, Saints Constantine and Helen Greek Orthodox Church welcomed the San Diego community to experience Hellenic cuisine, entertainment and hospitality on September 6 and 7, 2014. The annual Cardiff Greek Festival is one of the church's many faith, fellowship and educational programs.
Festival attendees were transported into a quaint Greek village, serenaded by live entertainment as they feasted on traditional cuisine and meandered through the open marketplace. The parish's youngest members, ages five through high school, performed folk dances in traditional costumes.
"Our parishioners are guided by the light and warmth of our faith and heritage," said Rev. Father Michael Sitaras, pastor of Saints Constantine and Helen. "We sincerely thank those who attended our festival, and we welcome you to continue rejoicing with us through the richness of our activities."
Saints Constantine and Helen offers a myriad of programs and ministries that serve the needs of the community, including liturgical services, a Greek language school and a preschool academy. Additionally, the parish welcomes those interested in learning more about Orthodox Christianity. In fact, an estimated 1,400 festival visitors attended tours of the church, which included an overview of the faith, guided by Father Sitaras.
"What many visitors don't realize is that our gold dome is just as magnificent on the inside as it is on the outside," said Father Sitaras, who is also a renowned artist. "I love that moment of stunned wonderment when guests first see the intricacy of the Byzantine artwork in our church."
Icons depicting Orthodox Christian saints – comprised of mosaic glass produced in Murano, Italy – glisten against white marble that is bathed in sunlight. The crowning glory is what the church considers the largest mosaic in the world of Jesus Christ. Orthodox Christians venerate icons for the person represented, rather than the object itself.
###
Through faith and fellowship, the Cardiff Greek Festival is celebrated annually the weekend after Labor Day at Saints Constantine and Helen Greek Orthodox Church. The parish invites the community to visit http://www.stsconstantinehelen.com for additional information on its programs and ministries. Saints Constantine and Helen is located at 3459 Manchester Avenue, a half mile east of I-5 at the Manchester exit in Cardiff-by-the-Sea, Calif.