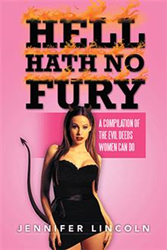 SWARTHMORE, Pa. (PRWEB) February 06, 2017
A saying goes, "There is nothing as unpleasant as a woman who has been offended or whose love has not been returned." True to the saying, author Jennifer Lincoln reveals a compilation of hilarious yet honest accounts comprised by the things women think of and do when they are enraged. "HELL HATH NO FURY: A compilation of the Evil Deeds women can do" (published by Xlibris) is a fun and revealing book that will make readers marvel at what kind of things women can do when provoked.
"Imagine a room full of wine, women, lingerie, and adult novelties. Inevitably, the conversation turns to men, how much we can love them, and what may happen when that love is betrayed. After over twenty years of selling lingerie and adult novelties via home party plan, I have finally written some of the most amazing stories of revenge as told to me, no holds barred," Lincoln says.
As a lingerie and adult novelty salesperson, these stories are from her clients, thus Lincoln would like to reiterate that she neither condemns nor condones any of the acts committed by the angered women. At the very least, Lincoln considers this book as a how-to guide. Fun and definitely believable, this book will truly surprise each reader as it divulges the many acts of women who were cheated on or were angered by the persons they thought they were in a relationship with.
With deeds ranging from sheer genius to down right diabolical, the eighteen stories told inside this book is really the primary testament to the famous saying, "HELL HATH NO FURY" like a woman scorned.
"HELL HATH NO FURY"
By Jennifer Lincoln
Hardcover | 6x9in | 80 pages | ISBN 9781493159369
Softcover | 6x9in | 80 pages | ISBN 9781493159352
E-Book | 80 pages | ISBN 9781493159376
Available at Amazon and Barnes & Noble
About the Author
Jennifer Lincoln first began selling lingerie through home party plan with a nationally known company. After working two years with this company, Lincoln decided to start her own lingerie home party plan business; Sassy Silks. Her company grew to have sales representatives in four states. After numerous customer requests, Lincoln added a line of adult novelties to her company's product line. Business increased 300 percent in the first year of selling adult novelties. Lincoln holds an MBA and does business consulting, financial planning strategies among other entrepreneurial ventures. Her latest business venture can be found at YourLastWords.com. Aside from "Hell Hath No Fury," she has also written several books, created a line of greeting cards: Naughty But Needed that may be seen at naughtybutneeded.com. Lincoln has written numerous lyrics currently being played by "2 B 4 Gotten" a local musical group that can be seen in the area of Philadelphia, PA., and on YouTube. She welcomes any of the reader's revenge stories and would like to hear from them. Stories may be submitted to HellHathNoFuryBook1(at)yahoo(dot)com, there may be a Book 2 out there.