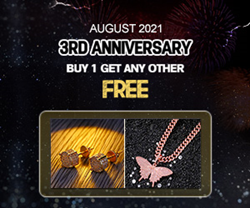 Every item of hip hop jewellery, every pair of earrings, every chain, and every iced watch is made to create a stance. Helloice is dedicated to creating items that bolster confidence and develop strong identities
MIAMI (PRWEB) August 09, 2021
Summers are about to conclude, so now is the greatest moment to create the coolest style statement with Helloice, making premium items accessible to everyone. Helloice offers the luxury of the finest-crafted and trendiest jewellery accessories for both men and women, from the classiest Cuban chains to super trendy hip hop jewellery for both men and women. There is an exciting 3rd Anniversary sale going live from August. Helloice presents the most elegant jewellery accessories at a discount with the following features: 30-Day returns, Free Standard shipping, Year Warranty, and Secure Shopping.
Heloice was established in 2017 to emulate class and extravagance in fashion around the world. The Miami-based jewellery brand is changing men's fashion by making Cuban chains, iced-out timepieces, and hip hop jewellery affordable to all. It has also created a women's statement collection. From distinctive circle-cut earrings to layered necklaces, every cut, contour, and detail is meticulously crafted. Every piece exemplifies the main philosophy: everyone can afford the pleasure of self-expression through distinctive accessories. Helloice's ultimate win is a remarkable statement that exemplifies the greatest of individual expression.
A specific style is formed via self-expression. But how to create it? Helloice is here to help. It has committed to ensuring that everybody has the availability of the most stylish, up-to-date jewellery. Every Helloice product is a fashion statement to be proud of.
The Helloice spokesman understands their costumer's individuality and hence offered their signature products available for everyone. According to him, it's about the individuals who would choose its patterns to express themselves. "It's all about the self-expression, creativity, putting one's best effort forward in the world, and allowing individuals to be themselves. Every item of hip hop jewellery, every pair of earrings, every chain, and every iced watch is made to create a stance. Helloice is dedicated to creating items that bolster confidence and develop strong identities" The Helloice spokesperson shared his thoughts.
Helloice's bestselling earrings for men, men's chains, men's pendants, and other hip hop jewellery are on sale on the occasion of 3rd anniversary with some very great discount offers. A buy one, get one free deal is also available. So, this summer, raise your style game with the most elegant display accessories, including pendants with Cuban chains, rings, bracelets and many other. All that is required is just to type the discount code, i.e. FREE.
Helloice creates each piece to make self-expression for its customers as well as a brand statement for itself. As a result, it also specializes in jewellery customization, allowing clients to combine different accessories to create their own jewellery sets. It's all about appreciating and promoting people for who they are. At Helloice, there's lots to pick from, as well as the freedom to be one's true self with no filters and display it to the world.
Media contact
Website address: https://www.helloice.com/
https://www.facebook.com/helloicejewelry/
https://www.instagram.com/helloiceofficial/
https://www.youtube.com/channel/UCuj7LfLH6n31T2VCd16PpSA