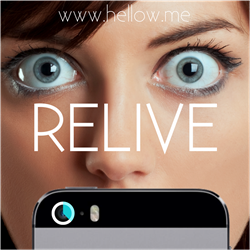 #MOMENTOW
Delaware (PRWEB) May 08, 2014
Want to relive a moment? Hellow is a new photo-sharing app that allows friends to share memories they don't want to forget. Like many other photo-sharing apps, it helps capture a moment, but let users specify when they want to share it.
Hellow has gone a long way to make this possible. Their journey began when staff members asked themselves, "Do we really need to share everything instantly?" Then after some hard brainstorming and design work, they came up with a product that will change the way we share.
"Giving people the control to share what they want, when they want to, gives "sharing" a whole new twist."
Hellow is a photo sharing application that allows users to take a picture, add text, and send it to any of their friends they choose. Users set a time limit for when their friends get to see the photograph. In the meantime, Hellow lets recipients know when a photo was sent, when it will be available to view, and who sent it. Once a photo is received, a chat feature opens up between everyone tagged in that photograph. In addition, receivers can also save the image in their smartphone or delete it.
Although the app is quite simple, the possibilities this feature opens are huge.
This is just the start of the sharing revolution. The Hellow journey started as a simple idea, but eventually got covered in passion, which led to discover new ways to share. Sharing a photo in a specific time was the original idea, but there's a lot more coming.
The Hellow team is adding the final touches to the Beta version, which will be available in the appstore in June. The app will launch first for iPhone users, with availability for the Android soon to follow.
However, the company thought it wasn't fair to make users wait until the app launched to begin sharing. They decided to offer a little taste of the experience on their landing page by letting people send their first momentow (the "ow" is explained in the website). There is a countdown on the page of until when people can upload their first momentow. Those who sign up now will be among the first to be notified when the Hellow app gates are opened to the public, which will be around June.
Join the waiting list at http://www.hellow.me.